Why IPOB Will Continue To Agitate For Biafra Nation – Ex-minister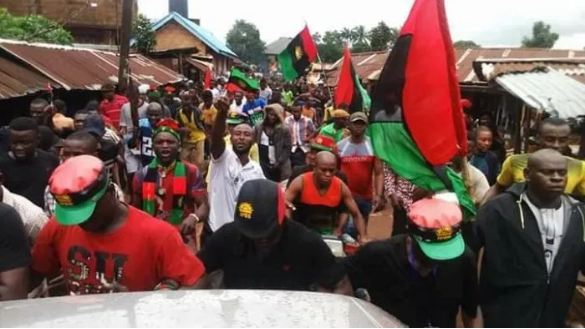 A former Minister of Power, Prof Chinedu Nebo, has revealed why the outlawed Indigenous People of Biafra (IPOB) will continue to agitate for Biafra.
Nebo stated that the marginalization and unfair treatment of the Ndigbo in the country led to the agitation for a separate nation spearheaded by IPOB leader, Nnamdi Kanu.
He noted that as long as the injustice done to Ndigbo are not addressed and the rights of the Igbo are also not given to them, IPOB would continue to agitate in the South East.
The former minister said these at the inauguration of new executive members of the Correspondents' Chapel, Nigeria Union of Journalists, Enugu State Council in Enugu, on Saturday.
Nebo added that IPOB agitation is justifiable but the method by which the group is going about its demands was condemnable.
He said: "The clamour for the state of Biafra was born out of the massive ill-treatment of Ndigbo, disenfranchisement of Ndigbo, the unspeakable treatment of Ndigbo that have driven many of our young people to despair and despondency. That is why IPOB was born.
"Unfortunately their methods are horrible, not defensible, unacceptable and they are not passing on whatever it is they want to pass in the right way. So, when you talk to a typical young person in Igboland, they feel like there is no hope for them in the entity called Nigeria and that is why some of them are so determined to the point of giving their lives to have independence and to become free from this shackle that Nigeria has placed on Ndigbo.
"I have always believed in one strong, virile country called Nigeria. Together we are stronger, we are better, we are more massive and we can turn the lots of the country around and in so doing, turn the cause of the black man around.
"The dismemberment of Nigeria is not in the best interest of the black race. In order to prevent that dismemberment, Ndigbo must be given a pride of place again in this country. And that pride of place must come from an Igbo man mounting the saddle of presidency in Nigeria. I think this is very important because if it does not happen, more and more people will become restive and it is becoming obvious.
"For instance, right now, one of the most neglected geopolitical zones in this country is the South-East. If you think in terms of infrastructural development, it is like the Federal Government sometimes forgets that there is a place called the southeastern part of Nigeria with regard to the distribution of amenities and infrastructure."
Download NAIJA NEWS app: