Top Nigerian Newspaper Headlines For Today, Saturday, 2nd October, 2021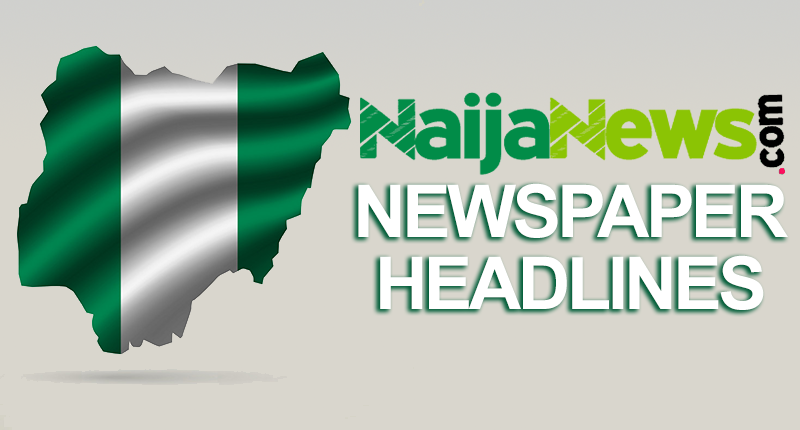 Good morning Nigeria, welcome to Naija News roundup of top newspaper headlines in Nigeria for today Saturday, 2nd October 2021.
The leader of social-political group Afenifere, Pa Ayo Adebanjo, has described President Muhammadu Buhari as ignorant over his Independence Day nationwide broadcast.
Buhari had in a nationwide broadcast to mark the Independence Day celebration stated that Nigeria's unity is not negotiable.
Reacting in a chat with PUNCH on Friday, Pa Adebanjo stated that Buhari was talking nonsense as he was a small boy when the country's independence and unity was being negotiated in the 1950s.
The Indigenous People of Biafra, on Friday, revealed people allegedly behind insecurity in Imo, Anambra and some southeast states.
The outlawed group accused the Governor of Imo State, Hope Uzodinma and his accomplices of allegedly creating a fake Eastern Security Network who are used to eliminate political rivals.
IPOB accused the All Progressives Congress Governor of been behind killings of innocent people in Imo State.
President Muhammadu Buhari has announced that he has given approval for the conditional lifting of the ban on Twitter operations in Nigeria.
The President made the disclosure on Friday morning during his independence day speech to Nigerians.
Naija News recalls the federal government had in June 2021, suspended the activities of the micro-blogging site in the country over allegations that the platform was been used to undermine the sovereignty and security of Nigeria.
But during his speech on Friday, President Buhari disclosed that following negotiations between the government's technical team and officials of the micro-blogging giants and agreements on a key number of issues, he has directed the lifting of the Twitter ban and ordered the resumption of activities once agreed conditions are met.
President Muhammadu Buhari on Friday came hard on sponsors of separatist agitations in the country, accusing them of abandoning their national leadership positions for their selfish gains.
Naija News reports that the President stated this in his Independence Day broadcast, disclosing that a member of the National Assembly has been identified as sponsor of separatist agitation.
He stated that this came to light following the arrests of leader of the Indigenous Peoples of Biafra (IPOB), Nnamdi Kanu and Yoruba nation agitator, Sunday Adeyemo, alias Igboho.
President Muhammadu Buhari on Friday boasted that he has done more for Nigeria and Nigerians in six years than any of his predecessors since 1999 have done.
Naija News reports Buhari came into power as a democratically elected leader in 2015 and before him, Nigeria has had three elected presidents since its return to democracy in 1999.
His predecessors in office were Chief Olusegun Obasanjo, Alhaji Umaru Yar'Adua, and Dr. Goodluck Jonathan.
But Buhari during his early morning 61st independence day broadcast to Nigerians, said he has done more than them within the six years he has been in power.
Former President, Chief Olusegun Obasanjo has stated that Africa is in dire need of investments, even as he warned foreign investors to be wary of the pervasive presence of some unscrupulous elements in the continent.
Speaking during the Africa-Dubai Business Investment Summit organised by the Africa World Business Centre (AWBC) and Leaders Without Borders on Wednesday, he said the activities of crooks should not discourage those bringing funds to develop critical sectors.
Naija News reports Obasanjo as saying, "Africa is crying for investments and there can be no better, auspicious period for investment in Africa," adding that "what we should all bear in mind is buyer beware; there are crooks everywhere".
Kano State Governor, Abdullahi Umar Ganduje, has called out his counterparts from the Northern and Southern region of the country to stop the war over power shift.
Speaking at the 61st Independence Day celebration on Friday, Ganduje condemned in totality inciting words thrown at each each by the governors from both regions over 2023 Presidency zoning.
On the rift over the choice of leadership of the nation, Ganduje described the political banters as unfortunate.
Governor Nyesom Wike of River State has mocked the former Minister of Aviation, Femi Fani-Kayode, over his defection to the ruling All Progressives Congress (APC).
Recall that Fani-Kayode had recently dumped the opposition Peoples Democratic Party (PDP) and was warmly received by President Muhammadu Buhari and the Caretaker Chairman of the APC and Governor of Yobe State, Mai Mala Buni at the Presidential Villa, Abuja.
Naija News reports that the controversial politician is expected to be formally welcomed into the APC in Abuja next week.
But in an interview with BBC News Pidgin on Friday, Wike stated that Fani-Kayode has no integrity and ideology, saying that he is not friends with the former minister.
The Governor of Rivers State, Nyesom Wike has warned former President Goodluck Jonathan that the All Progressives Congress (APC) has no good intention for him.
He added that a critical analysis of the situation shows the APC doesn't like the former President but only want to ruin his hard-earned reputation.
Wike warned Jonathan not to be deceived by the lure of getting the ruling party's 2023 presidential ticket, observing that it is all a ploy to destroy his name.
The Rivers State Governor made his views known on Friday in an interview with BBC News Pidgin where he discussed the rumours of a possible defection by Jonathan from the Peoples Democratic Party (PDP) to the APC.
The Biafra Nations League (BNL) has warned President Muhammadu Buhari against prosecuting any member of the National Assembly from the Southeast or Southsouth in the guise of going after sponsors of IPOB.
In a statement sent to Naija News on Friday in response to Buhari's Independence Day speech vowing to clampdown on sponsors of Nnamdi Kanu and Sunday Igboho, BNL warned that it's militias might be forced to carry out attacks if any lawmaker in prosecuted.
The pro-Biafra urged Buhari to present evidence to the public that any National Assembly member from the region is sponsoring IPOB.
That's the top Nigerian newspaper headlines for today. Read more Nigerian news on Naija News. See you again tomorrow.