'Pretenders' – Afenifere Leader Fires Tinubu, Osinbajo Over Restructuring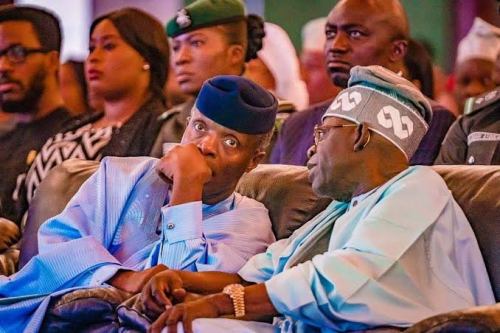 The leader of social-political group Afenifere, Pa Ayo Adebanjo, has slammed Vice President Yemi Osinbajo and the National Leader of the All Progressives Congress, APC, Bola Ahmed Tinubu.
Naija News recalls that the APC had in 2014 promised to begin steps to restructure Nigeria if it's succeeded in wrestling power from the Peoples Democratic Party, PDP.
But the now ruling party has refused to keep to its promise despite widespread calls from mostly southerners for it to restructure the country.
Speaking to PUNCH on Friday, Pa Adebanjo lambasted Osinbajo and Bola Tinubu for paying lip service to restructuring.
Adebanjo said that it was unfortunate that Osinbajo and Tinubu, who promoted restructuring, are now pretending as if it was not included in the APC manifesto during the election campaigns in 2015.
He recalled that the 1960 Constitution gave all the regions financial autonomy, such that every region was able to control its own destiny.
Adebanjo, however, said that after the military coup of 1966 and Nigeria became a unitary state, things began to go downhill.
The 93-year old Yoruba leader stated that for Nigeria to return to the path of progress, it must embrace restructuring.
He however stated that this could only be done by first doing away with the 1999 Constitution which he said was not based on fairness but exploitation of the South.