Nigeria At 61: "Buhari Must Go" Protesters Storm Abuja Streets
As Nigeria marks its 61st Independence anniversary, aggrieved protesters on Friday stormed the streets of Abuja at early hours of the morning demanding the president, Buhari to vacate power.
According to reports, they stormed the Dantata Bridge on Airport Road in Abuja with placards and banners which read "Buhari must go".
They also set tyres on fire on the expressway.
The protesters were later dispersed by heavily armed policemen.
See some photos below.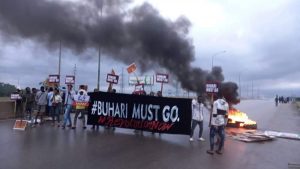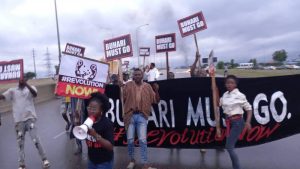 Naija News reports that Nigeria's Independence Day is celebrated every October 1st to mark our independence from colonial rule under the British government.
Meanwhile, the Peoples Democratic Party (PDP) has accused the All Progressives Congress (APC) government of making life difficult for Nigerians in the past six years.
The PDP National Publicity Secretary, Kola Ologbondiyan, made the accusation while addressing newsmen at the party's national headquarters on Thursday.
He described the six years of President Buhari administration as the worst in Nigeria's history as an independent, sovereign state.
Ologbondiyan asked Nigerians not to despair in the midst of economic woes, impunity, nepotism, treasury looting, harsh economic policies and accommodation of terrorism which characterized the Buhari government.