"At 76, 77, I Am Still A Young Man" – Bode George Speaks On Having Political Ambition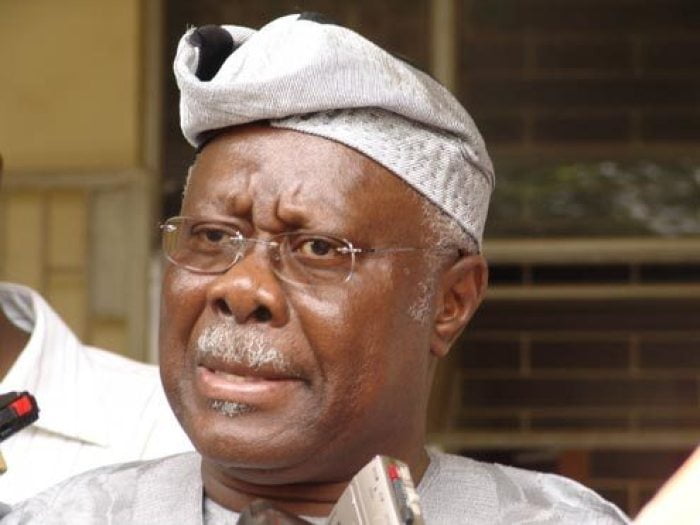 A former Deputy National Chairman of the Peoples Democratic Party, Chief Bode George has declared that he still considers himself as a young man.
The PDP chieftain added further that some people have been putting pressure on him to contest again at party level but he, however, submitted that he is beyond that phase of life now and would rather watch how the younger generation will handle things.
Specifically, he pointed out that he has no interest in contesting the national chairmanship position of the PDP which Naija News recalls has been zoned to the North.
"At 76, 77, I am still a young man. People have been calling on me to contest, what am I looking for," he said.
George, who spoke at a thanksgiving programme in Lagos however added that the PDP must ensure it gets its calculations and strategy right concerning zoning for the 2023 elections in the country.
He pointed out that Nigerians and other political parties have their eyes on the PDP, watching out for decisions it will take on the forthcoming general elections.
George on his own argued that while he agrees that zoning is not part of the constitution of Nigeria, it has proven to be a workable arrangement put in place by the founding fathers and which has kept the party in order for the past 23 years.
He added that the PDP must work out the details in such a way that no region will feel left out by the eventual arrangement.
In his view, once the sharing formula is gotten and no section feels left out, it won't be difficult to muster support for the party and its candidates during the 2023 elections.
"Our opponents are trying to play games, waiting for us to make wrong moves. Millions of Nigerians are watching us. Let us do it right. We shouldn't mess up this time around," he said.
"I was the first elected Vice-Chairman in the South-West. I know the number of local governments in the whole of the South-West. The way the founding fathers configured the zone, if you look at our constitution, there is no zoning but our founding fathers created the six geopolitical zones for a purpose so that no Nigerian would be left behind.
"It is called turn-by-turn Nigeria Limited, that brought that sense of belonging, commitment, that sense of loyalty to our nation. We are drifting very badly. We will continue to say it."