'Thank God APC's Lyon Did Not Emerge Bayelsa Governor, Timipre Sylva Remains Our Leader'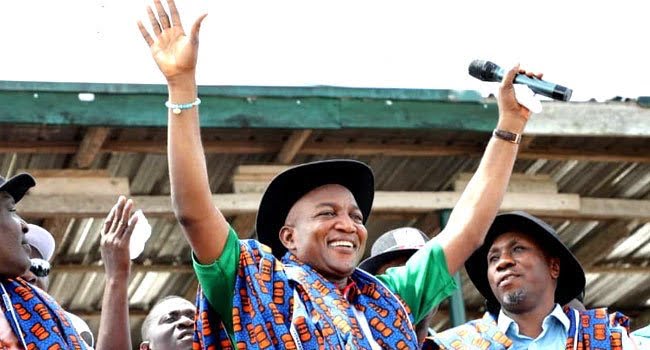 Former All Progressives Congress (APC) spokesman, Nabena Yekini, has expressed gladness David Lyon did not emerge governor of Bayelsa State.
Recall that Lyon had won the Bayelsa Governorship election in 2019 but his election was nullified by the Supreme Court.
The Apex court ruled that his running mate Degi Eremienyo Wangagra submitted a fake certificate to the Independent National Electoral Commission (INEC).
Speaking in an interview with SUN, Nabena slammed Lyon for not appreciation those that gave him the ticket to run on the APC platform.
He accused the former governorship candidate of not contributing to the running of the party in Bayelsa state.
According to Nabena, Lyon, who is now a member of the APC national caretaker committee, cannot contest the leadership of the party in the state with the Minister of State for Petroleum, Timipre Sylva.
Asked who the leader of the APC in Bayelsa State is, Nabena said: "The leader of the party in Bayelsa is not in any contention because everybody clearly knows that Sylva is the leader.
"It is not about staying in Abuja and making frivolous claims without knowing or understanding the running of the party especially financially in the state.
"I challenge anybody claiming that Lyon is the leader of the party Bayelsa to ask him if he has contributed a dime to the running of the party."
He stated that leaders of the APC gave Lyon the ticket of the party to contest the governorship election, adding that he refused to come back to appreciate the people that were instrumental to it.
"It is even good that he did not make it. Yes, it was by God's grace that he was elected, but he never cared to return to the people to thank them for supporting him," Nabena continued.
"He never contributed a dime to the running of the party in the state. He is rather receiving sitting allowances among other things from the national.
"Did he care to know how we raised money to conduct the registration and congresses in the state?
"How can such person contest the position of who the leader of the party should be? He is just benefitting from the party while others are making contributions to sustain the party."
He stated that Lyon is not contesting the APC leadership with Sylva.
"What happened to him was a blessing in disguise because he would have ended up a big disappointment," the former APC spokesperson concluded.
Download NAIJA NEWS app: