Resident Doctors Give Buhari Govt 72-hour Ultimatum To Pay Salary Arrears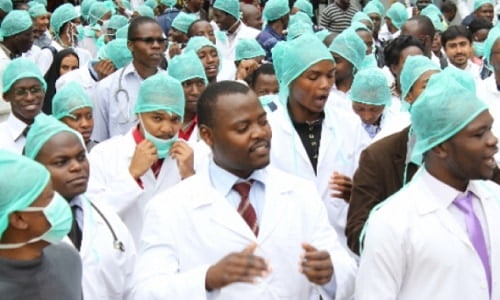 The National Association of Resident Doctors (NARD) has asked the federal government to pay salary arrears of its members within the next 72 hours.
Naija News reports that the NARD stated this in a press conference held on Saturday, after the swearing-in of new NARD executives held in Bauchi state.
Speaking to newsmen, the new president of the association, Dare Ishaya, stated that the strike will continue until the minimum demands of the association are met.
He said: "Annual general meeting unanimously resolved by votes to continue the total and indefinite strike action until our minimum demands are met.
"The annual general meeting, in particular, demanded that the federal government should ensure the following urgently for the purpose of restoring normalcy to the health sector: payment of medical residency training within 72 hours, since the money meant for it is available and verification of the list for payment has been completed; payment of the arrears of salaries of our members on GIFMIS platform within 72 hours, while the migration process continues."
The Resident Doctors also urged the Muhammadu Buhari-led administration to withdraw the court case against doctors.
Recall that the NARD had embarked on an indefinite strike action on August 2nd after failing to reach an agreement with the federal government.
The association had also rejected a recent ruling of the national industrial court directing the NARD to suspend its strike "with immediate effect".