Over 8,000 Boko Haram Members Surrender To Army As More Terrorists 'Repent'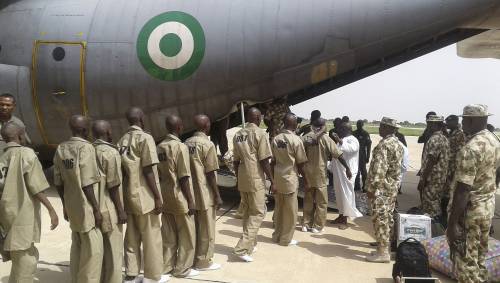 The Nigerian Army has recorded more victories in the ongoing fight against insurgency and terrorism in the country.
This is as more Boko Haram terrorists have joined their colleagues in renouncing their bad ways, laid down their arms and surrendered to troops of the Nigerian Military.
According to the Acting General Officer Commanding (GOC), 7 Division, Abdulwahab Eyitayo, not less than 8,000 Boko Haram fighters have surrendered and more keep coming in every day.
Eyitayo who also doubles as the Commander Sector 1, Operation Hadin Kai observed that as the troops continue the onslaught, more of the terrorists are abandoning their hideouts and surrendering.
He made the disclosure on Tuesday when he played host to the Director, Army Public Relations, Onyema Nwachukwu, who led a team of Defence Correspondents from Abuja to Maiduguri, the Borno State capital.
According to him, "one of the reasons they are surrendering in droves is the overwhelming firepower from the troops".
"It is because every man's endeavour is motivated by his family's wellbeing, that is why they are coming out with their families. We started seeing the signs from June.
"Our intensified operations had blocked their logistics' routes and supplies, bombardments all over, that is why they started surrendering and diseases have overpowered many of them.
"It was better because in the end, the troops will clear all of them and their sympathisers combined," he said.
The GOC warned that the opportunity to surrender won't always be available and those terrorists who act stubborn will be neutralized when the window of repentance closes.
He added that for those that have already come out and surrendered, the Nigerian Army receives, profiles and screens them after which they are handed over to the Borno State government for further action.
Earlier, the Army spokesperson commended the efforts of the soldiers who have dedicated their life and comfort to ensuring other citizens of the country are safe at all times.
He promised that the media will continue to provide support and counter the media propaganda being sponsored by those financing the terrorists.