'Keep My Topic Out Of Your Dirty Mouth' – Bobrisky Fires Back At Seun Osigbesan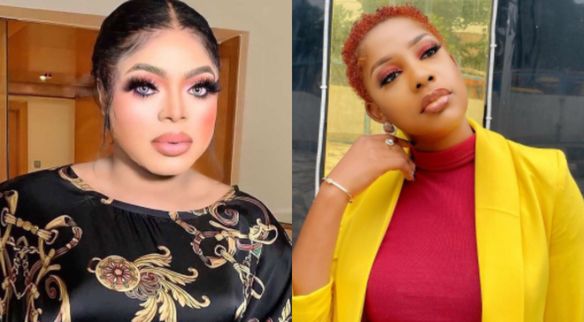 Controversial male barbie, Bobrisky has responded to the attack on him by Nollywood actress, Seun Osigbesan who called him out for 'misleading' others.
Bobrisky who said he won't lay low and allow anyone to rubbish him said he didn't even recognize Osigbesan until she decided to call him out.
The popular crossdresser however said he is not forcing anyone including the actress to like him, stating that he doesn't need their approval.
Naija News recalls Nigerian actress, Seun Osigbesan had berated controversial crossdresser, Bobrisky for revealing why he wanted to be identified as a woman.
This is after a recent chat with Nigerian journalist and media entrepreneur, Chude Jideonwo, where Bobrisky revealed that dressing and acting like a woman paved a lot of ways for him, making him powerful.
However, this revelation didn't sit well with the actress who took to her Instagram page to label Bobrisky as a disgrace, adding that he was a disgrace to manhood for using the female gender to escape taking up his responsibilities as a man.
She also asked the judgment of God to come upon him for misleading many young people.
However, Bobrisky in his quick response via an Instagram post, fired back at the actress.
Sharing a photo of Osigbesan, Bobrisky wrote alongside, "Hey, Clap for urself, i don't know you before now but now I can always recognize you from far with ur fat nose like that of a cow 🐮 well done ma.
"I might have promise not to fight anyone and mind my business but that doesn't mean I will take nonsense talk from your dirty opinion about me, no one is forcing you to like me or know me but keep my topic out of ur dirty mouth…"
He further threatened to drag the actress using his influence if she keeps talking about him.
Below is a screenshot of the response.