'I Drank Tea With Obasanjo' – Joe Igbokwe Reveals APC Supporters' Pain About Fani-Kayode's Defection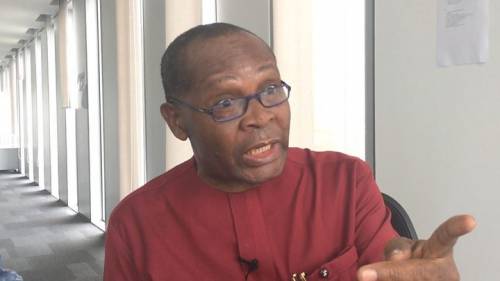 A chieftain of the All Progressives Congress (APC) in Lagos State, Joe Igbokwe on Wednesday explained that he was misunderstood when he complained about not being given the sort of recognition which national leaders of the party recently extended to defecting Femi Fani-Kayode.
Naija News had reported how Igbokwe lamented about not being invited for even a cup of coffee at the Aso Rock Presidential Villa despite the humongous work he and other foot soldiers of the ruling party have put in for President Muhammadu Buhari.
Following the backlash generated by his comment, Igbokwe explained, while appearing on Arise News morning show monitored by our correspondent, that he was only playing with words as he had long before now enjoyed presidential reception when Chief Olusegun Obasanjo was President.
His words, "I was just trying to play with semantics. I've met with the President about 17 years ago. I have gone beyond that stage. I started from AD days, AC and CAN to get to where we are today. I am not looking for coffee to take. I am not looking for a presidential handshake. I had it when President Obasanjo was there.
"Obasanjo was in PDP and there was this attack on him then and we stood against it. Akin Osuntokun was the MD of NAN then. He took us to the President and told Obasanjo that the seven of us have been working for him. What we got was a cup of tea and grapes. Obasanjo said, 'gentlemen you are doing very well and there is still more work to do'. We left and were happy.
"That was in 2003. I am not looking for food to eat. I was thinking about consequence management. That actions have consequences. People misinterpreted my comment and thought that I wanted something. Over the years in Lagos State, I have been able to gather people who support APC with their data, slaving for the party for years.
"I always gather them in my office to encourage them, telling them that the idea is not for us to look for something to eat but to make our nation better; that if it is better, it is better for everybody. I'm talking about intellectuals and writers that have been slaving for our party. But here are apostates and interlopers being welcomed in as if other people do not matter."
The Tinubu loyalist went on to warn the APC leadership against throwing the party's door open to all manner of characters, particularly those who are not coming to build the party. Igbokwe then disclosed why he and other foundation members of APC are not comfortable with the defection of Fani-Kayode to the APC.
"It shouldn't be an all-comers affair. He could have been admitted quietly without all the noise and the presidential handshake, without leaving what you are supposed to do and be doing things that are abnormal or unacceptable. Why the open celebration as if a hero is coming. He is not a hero. He is not!
"We, the foundation members of APC, are worried and would not want something like that to repeat itself. We didn't make noise when other people were coming. We had to make noise because of this one," the aide to Governor Babajide Sanwo-Olu of Lagos State said.
Download NAIJA NEWS app: