Why Nigeria Should Reduce 109 Senators To 36 – Rochas Okorocha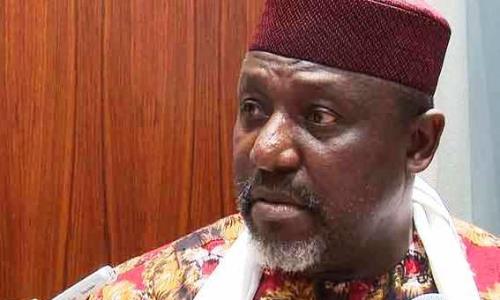 Senator Rochas Okorocha (APC-Imo West) has called for the reduction of Nigerian lawmakers to cut cost.
He made the call while speaking in Abuja on Monday when fielding questions from members of the Nigeria Union of Journalists (NUJ).
Naija News reports that the former Imo governor was at the NUJ for conversation with Abuja Journalists, as part of activities lined up for his 59th birthday anniversary, slated for the 22nd September, 2021.
Okorocha stated that Nigeria cannot keep doing the same old things and expect a different result.
According to him 36 senators representing each state is better than having 109.
The former Imo governor said: "Now, when you talk about cutting down the cost of governance, Nigeria is better off with one senator per state and three federal House members per state. This number of people can solve Nigeria's constitutional problems.
"We are too many, and what is it that three senators can do in a state that one senator cannot do? I have asked this question, but nobody answered me; emotions drive this country rather than issues.
"Remember, I said let us have one senator per state, and it raised a lot of controversy in the whole country. But, shortly after, I talked about that Italy reduced the number of their senators by 60 per cent just as if they copied from me.
"You know Nigeria will like to maintain the old way, but if you keep doing things the same old way, you keep getting the same old result, so we must try something new."