We Have Outsmarted Bandits In Katsina By 'Cutting Them Off' – Masari Tells Lai Mohammed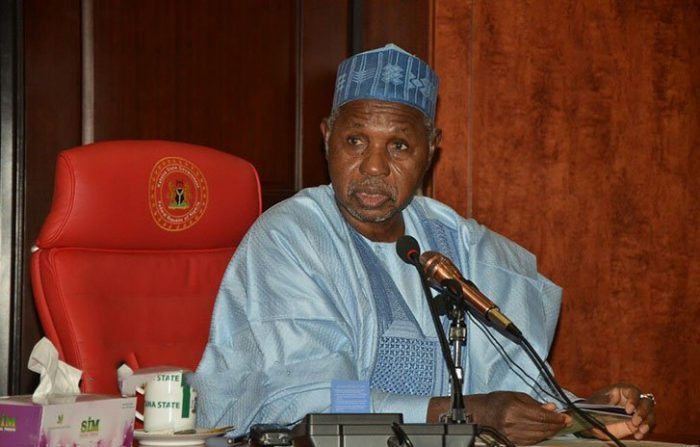 The Katsina State Governor, Aminu Masari has expressed delight that the security measures adopted in the fight against bandits and criminals in the state are beginning to yield positive results.
He observed that the bandits who operate in the area have been cut off from their informants after telecommunication services were shut down.
Masari made the revelation on Tuesday when he played host to the Minister of Information and Culture, Alhaji Lai Mohammed at the government house in Katsina.
He explained that apart from the telecoms shutdown, many other measures including restricting sales of petrol and ban on night baking of bread were adopted which are now getting replicated by other Northwest states.
The Governor noted that the measures were deployed to starve the bandits of supplies and force them out of hiding.
He said, "It is important because the informants give information to these bandits and now they have been cut off."
"The demand for ransom has also reduced. We have put the sale of petrol to N5,000 and I think some states (in the north-west) are doing this.
"We have banned the sale of second hand motorcycles in the state. We have also stopped the operation of junction motor parks."
Masari however lamented that the conventional security forces are not willing to work with the local vigilantes, saying that every stakeholder must work together to extinguish banditry.
He, therefore, sought the Minister's help in conveying the information to the appropriate quarters at the federal level so necessary changes can be effected.
"These are different forms of criminality you must extinguish completely," he said.
"The issue of banditry has nothing to do with religion or ethnicity. They do not fight for any cause."
"We have people who are willing to support the police, army but they (law enforcement agencies) are not welcoming," he said.
"Honourable minister, something needs to be done."
Alhaji Mohammed in his response promised to convey the Governor's request and observations to the President and other Ministers in charge of such areas, saying the war against criminals must be won and all hands must be on deck for this.
"This is not a fight for the governor alone or for the military, it is a battle for all of us. We all know who the bandits are. We can see that this problem will only go away if we decide that it must go away," he said.
"You have sent us to Mr President, I will report back to the president and I will consult with the ministers of interior and defence, we have meetings where we discuss such issues."