Ligue 1: Lionel Messi Ruled Out Of Metz Vs PSG Clash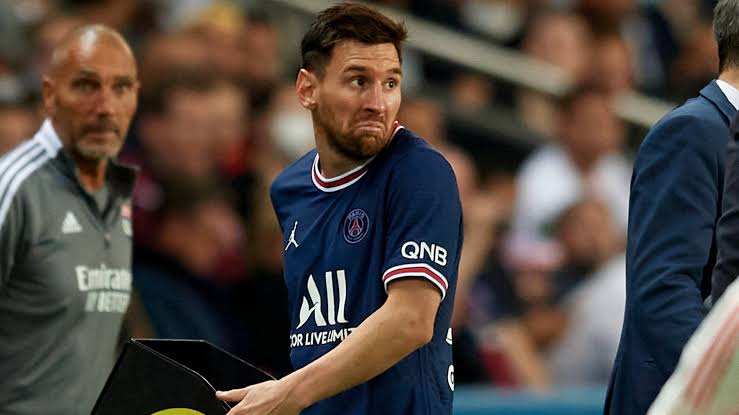 Paris Saint-Germain, PSG, has confirmed Lionel Messi is ruled out of the club's Wednesday clash with Metz.
A statement released by the club on Tuesday, revealed that the Argentine international sustained a 'minor' knee injury during their last match against Lyon.
Naija News recalls that PSG had beaten Lyon 2-1 in their last game.
However, in spite of injury blow suffered by the French football club, Mauricio Pochettino's side are still on top of the Ligue 1 table with 18 points from six matches.
The statement which confirmed Messi's injury read: "Lionel Messi, who took a knock to his left knee against Lyon, underwent an MRI on Tuesday morning, which confirmed signs of bruising of the bone. A follow-up examination will be carried out in 48 hours."
It added, "Marco Verratti started running again today.
"Sergio Ramos is continuing his individual training. Ismaël Gharbi is in individual training."
Naija News recalls that Messi on Sunday evening displayed a mild reaction after he was substituted during the match between Paris Saint-Germain and Lyon.
The 34-year-old recently joined the Paris club as a free agent from Barcelona and has played two games for the club.
Messi on Sunday expressed disappointment after PSG manager, Mauricio Pochettino subbed him in the second-half of the game.
In his reaction, Messi refused a hand shake with Pochettino after being subbed in the 76th minute of the game.
Speaking with journalists after the 2-1 victory, Pochettino sad Messi told him that he was 'OK' after being subbed off in his side's 2-1 win with Lyon.
Messi's former teammate at Barcelona, Neymar had helped PSG secured their first goal against the visiting team to make 1-1, thanks to the penalty opportunity.
Pochettino's side snatched their three points after Mauro Icardi's stoppage-time header, Naija News reports.
In his reaction to Messi's attitude over the sub, Pochettino said: "I think everybody knows we have many great players in this 35-man squad," Pochettino said at his post-match press conference.
"Only 11 can play, we can't play more. We have to make choices, within the matchday squad and then during the game.
"The decisions in the game are made for the good of the team and each player.
"Every coach thinks about that. Sometimes it works, sometimes it doesn't. Sometimes players like it and sometimes they don't. At the end of the day, that's why we are here."