'Help! Police Shielding My Fiancé 9 Years After Pouring Hot Stew On Me'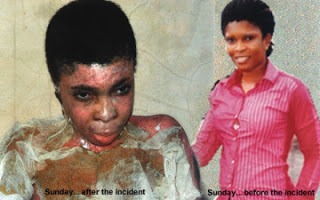 For Mary Sunday, a young Nigerian woman, life has become hell since she was allegedly assaulted by her fiancé, Isaac Gbanwuan, who is a policeman after she discovered that the latter had a low sperm count a few weeks before their marriage.
Narrating her ordeal, Mary said Isaac was diagnosed with low sperm count a few weeks before their wedding, and thinking she would leave him, he beat her up and poured hot stew on her alongside a lit stove in the process.
"On that day (August 24th, 2012) exactly 9 years ago, I and Isaac were coming home from the hospital where we went to meet his doctor. On my way back, I received a call from my relatives who was at that time travelling to Lagos from home.
"The network wasn't clear, I had to call back to know what was happening, as I was on the phone with her, Isaac started his fight, as usual, he said I have been on the call for a lengthy period that I was talking to my lover and might have disclosed his health issue with him. When we arrived home, he started beating me. He had a habit of stripping me naked outside whenever he was angry hence I walked away initially.
"I had to rush upstairs and went straight to his room thinking he would listen to my explanations and calm his mind. It wasn't the way I thought as Isaac became more aggressive, I was beaten to stupor in the room, I struggled out of the house and started searching for help. I escaped to his neighbour, also a very good friend to Isaac where I believed I have finally found refuge in her."
"She tried stopping Isaac but couldn't as she also received most of the punches thrown at me. She later left me with Isaac, on noticing that she has left, I escaped into her kitchen and shut the door against both of them, but couldn't lock it as Isaac was pushing it from outside, he overpowered me and had access to the kitchen, seized the woman's stove with a pot of boiling stew on it and emptied it on me."
Mary said after the incident, she was taken to Christiana Hospital, a private hospital in the Shomolu area of Lagos.
She said Isaac only visited her to mock her. She said she spent about four months at Christiana Hospital and that her medical bills were paid by her family.
Mary said she was later transferred to the National Orthopaedic Hospital, Igbobi, Lagos, where she spent 6 months. She said Gbanwuan never visited her at the hospital nor paid the medical bill.
The survivor also alleged that while on admission at the orthopaedic hospital, Isaac sent a text message to her sister, telling her that Mary could move on.
She said a few weeks later, her sister received videos and pictures of Gbanwuan's traditional marriage on her phone.
The distraught lady said she had consequently approached the Lagos State Domestic and Sexual Violence Response Team at Alausa to get justice.
She said a letter was written to the Attorney General and former Lagos State Governor, Akinwunmi Ambode, and got an immediate response after which she was sent to India for surgeries.
She, however, alleged that the police had refused to arrest Isaac, whom she said had also failed to appear in court.
She said the police force has been shielding Gbanwuan since 2012 and that though he is on the list of officers to be prosecuted over police brutality following the #EndSARS protest, Isaac is still serving and has not been arrested.
According to her, the Director of Public Prosecutions in Lagos sent messages to the state police command twice, but no positive response followed them. She said petitions were also sent to the Inspector-General of Police by Lagos State, without a response.
She also said the Lagos Police Command once sent a lawyer to court, who "promised to bring him to court on the next adjournment date, but both the lawyer and the policeman have failed to come till date".
According to her, this month (September) makes it the 12th time Isaac failed to appear in court.
The next hearing has been adjourned to 6th October (next month).
Mary is therefore calling on all well-meaning Nigerians and civil societies to come to her aid as she seeks justice in this case.
Download NAIJA NEWS app: