2023: Utomi Tackles Baba-Ahmed Over Statement On North Continuous Ruling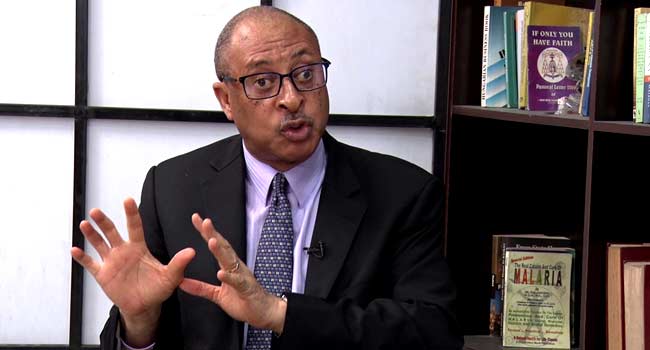 The spokesman of the Northern Elders Forum, Hakeem Baba-Ahmed has been condemned by former presidential candidate, Pat Utomi, for claiming that the North has the numbers to win the general elections, and it would not play second fiddle to any other region in the country.
Baba-Ahmed while addressing students at Ahmadu Bello University, Zaria, on Saturday, said, "We will lead Nigeria the way we have led Nigeria before; whether we are president or vice-president, we will lead Nigeria.
"We have the majority of the votes and the democracy says vote whom you want. Why should we accept a second class position when we know we can buy forms and contests for first class and we will win?
"Why does anybody need to threaten us and intimidate us? We will get that power, but be humble because power comes from God. We inherited leadership, being honest is not being stupid."
Utomi while reacting to Baba-Ahmed's statement on Channels TV said it is safe to begin to divide the nation through ethnic lines as the North can be fractured into many ethnic groups.
He said, "It'll be dangerous for us to begin to slice this country into 'We have a majority. Who are the 'we'? 'We' means who? These people align to a particular point of view and they can come from anywhere in Nigeria. I don't think that Dr Baba-Ahmed saying 'We have a majority" makes a lot of sense in the way that I understand democracy."
Meanwhile, Imo West Senator and former Governor, Rochas Okorocha has urged the All Progressives Congress (APC) to give its 2023 presidential ticket to the south to avoid a divided house.
Okorocha argued that it's only logical and sensible for the APC to do this as the North has enjoyed its turn at the central government since 2015 and it is only natural for power to return to the south.