2023 Presidency: Don't Set Nigeria On Fire – Gani Adams Warns Baba-Ahmed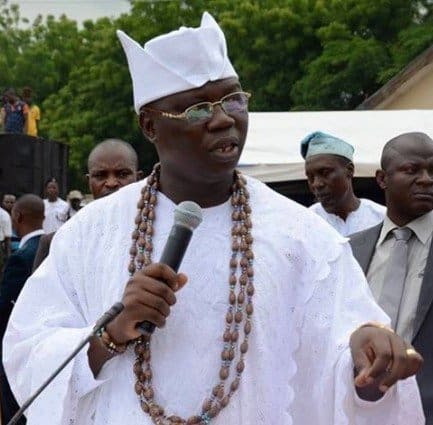 Yoruba generalissimo, Gani Adams has berated the spokesperson of the Northern Elders Forum (NEF), Hakeem Baba-Ahmed, over his comments on the 2023 presidency.
Naija News reports that the NEF spokesperson had come under attack for saying the North will retain political power beyond 2023.
Baba-Ahmed while addressing students at Ahmadu Bello University, Zaria, on Saturday, said the North has the votes and would not play second fiddle to any other part of Nigeria.
He had said, "We will lead Nigeria the way we have led Nigeria before; whether we are president or vice-president, we will lead Nigeria.
"We have the majority of the votes and the democracy says vote whom you want. Why should we accept a second class position when we know we can buy forms and contests for first class and we will win?
"Why does anybody need to threaten us and intimidate us? We will get that power, but be humble because power comes from God. We inherited leadership, being honest is not being stupid."
In a statement on Tuesday, the Aareonakakanfo of Yorubaland stated that Baba-Ahmed's comments are capable of setting the country on fire.
Adams added that the statements only revealed the domineering agenda of the north and the plan to permanently perpetuate itself in power.
Speaking further, Adams condemned the Muhammadu Buhari-led government over the growing debt profile of the country.
According to the Yoruba leader, the huge debts profile is capable of leading the country to its twilight and mortgaging Nigeria's future.
He explained that if the existing debt is left unserviced or unpaid, it might turn out to be a big problem for successive administrations.
Adams wondered why the Federal Government keeps borrowing without a clear-cut idea or plan for repayments of those loans.
The Yoruba leader added that the burden of several loans embarked on by the Federal Government is hitting hard on ordinary citizens.