What Has Buhari Done For Himself? – Okorocha Asks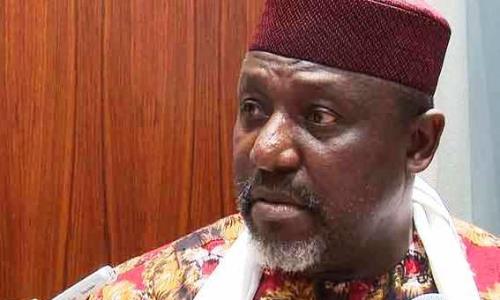 The Senator representing Imo West Senatorial district at the 9th National Assembly, Rochas Okorocha has slammed those accusing President Muhammadu Buhari of looting the nation's fund.
Okorocha who was responding to a public question during a 'Conversation with Owelle Rochas Okorocha at 59 and Award of Icon of Service and Philanthropy,' aired by Nigerian Television Authority (NTA) on Monday, said Nigerians should be fair in their judgement.
Naija News understands the former Governor of Imo State was asked during the gathering if he can boast of achievements in Nigeria under the All Progressive Congress-led government.
Responding to the simple but tricky question, Okorocha said "A student cannot be awarded marks until he's completed a task given to him.
"When people ask me questions like this, I only tell them to compare what was done by the previous government to was the incumbent government has done and is still doing," Naija News quoted the senator saying in the programme watched live on Monday afternoon.
"What has the Man Buhari done for himself? Where is the house he built for himself if he had stolen public funds?" Okorocha asked while still responding to Buhari's performance since 2015.
"I am not here to defend President Buhari, but Nigerians should judge fairly," the senator added.
When asked if he want to contest for presidency come 2023, Okorocha said; "As you may know, I have contested for Presidency three times.
"I have what it takes to contest for the presidency if I want to. I do not have the ambition to run for Presidency but I have the vision.
"And my vision for the presidency is not a do or die affair. My vision distinct me from other aspirants," Okorocha said.
Okorocha was again asked if he is making a public declaration for 2023 at the event, but he said "Even if I will declare my ambition, it would not be here. My people aren't here.
" Where are my party people? It will have to be a big gathering and so it will be big news," he reiterated.