Repentant Terrorists Are Surrendering Without Reason – Army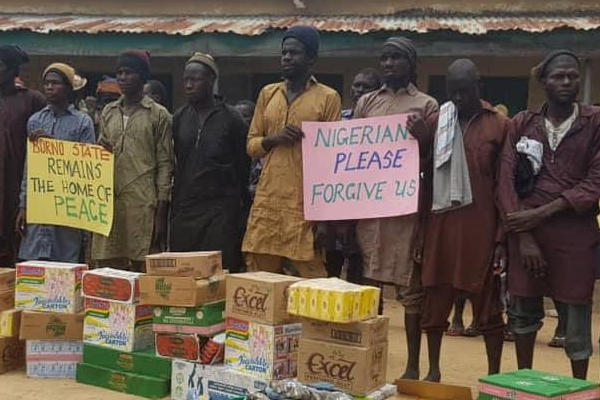 The Nigerian Army has disclosed that some Boko Haram terrorist who has been dropping arms and surrendering to the military do not understand why they are doing so.
The Theatre Commander, Joint Task Force (North-East) Operation Hadin Kai, Maj. Gen. Christopher Musa, while speaking on the issue said, "Some of the surrendered insurgents will tell you they don't even understand how they are surrendering and coming out in droves."
Musa disclosed this while speaking with newsmen in Abuja while on a media tour to Maiduguri to assess the progress made by the army in the fight against terrorism.
He further stated that the theatre of operation has maintained its operations to root out the Boko Haram and the Islamic State West Africa Province (ISWAP) terrorists from the North-East.
He added that the assumption of the Chief of Army Staff, Lt Gen. Faruk Yahaya and his appointment as the theatre commander has led to more achievement.
Musa noted that the operation started in 2009, and any operation that lasts more than a decade has a serious issue.
He said, "It is the intention of the chief of army staff to see that they put an end to the menace."
"A lot of innocent lives have been lost, and developmentally. The region has gone backwards many years, and it will take a long time before it can recover."
He charged newsmen and the public to make it difficult for the terrorists to operate.
Meanwhile, the Nigerian Army says it has no power to prosecute repentant terrorists but to profile and investigate before handing them over to the necessary authorities.
The Theater Commander, Operations Hadin Kai, Maj. Gen. Christopher Musa said this on Sunday while briefing newsmen on the fight against insurgency in the North.