2023 Igbo Presidency: Uzodinma Is A Selfish Traitor – Ohanaeze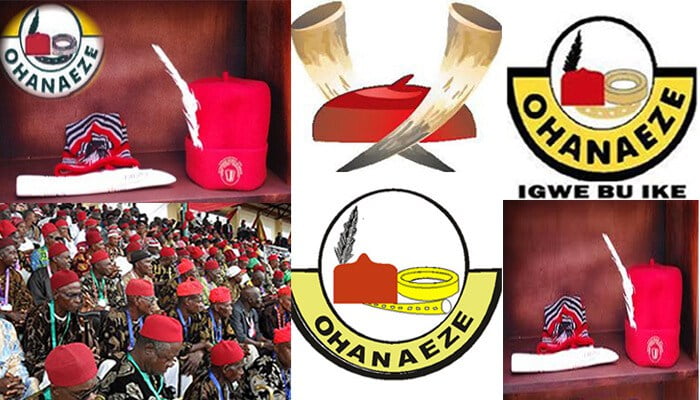 Imo State Governor, Hope Uzodinma has been labelled as a traitor working against the common interest of the Ndigbo in Nigeria.
The apex Igbo socio-cultural organization, Ohanaeze Ndigbo made the allegation in a statement on Monday where it accused the Imo Governor of dancing to the tune of his political masters who have probably hypnotized him.
It warned the governor to be careful so as not to become a 'use-and-dump' person in the hands of his political masters.
The Ohanaeze in its statement by its Secretary-General, Mazi Okechukwu Isiguzoro said Uzodinma was working against the 2023 Igbo presidency plans because he has his eyes set on the position for 2027 when he would no longer be a governor.
The group however cautioned that he won't clinch the position and would also suffer the consequence of working against his own people.
The Ohanaeze group made the submission while reacting to a statement reportedly credited to Governor Uzodinma in which he said Igbos should forget about the 2023 presidency as it was not in the interest of the All Progressives Congress (APC) to give the zone its ticket.
Ohanaeze in response to the Imo Governor's stance has now come out to say Uzodinma suffers from 'mouth diarrhea' and can't speak for the Ndigbo.
It added that such views expressed by the Governor are not only myopic but also selfish.
The statement observed that Uzodinma's stand was "the height of absurdity and lunacy," adding that, "no matter the sycophantic allegiance Uzodinma owes his political emperors, he should learn from chronological antecedents of those Igbos that stood against the genuine interests of Ndigbo in the past and the repercussions that came with it. In his own case, it will be destructive and disastrous."
It added that "Ndigbo never under any fora, mandated Governor Hope Uzodinma to speak on behalf of the Southeast with regards to the 2023 Presidency.
"Uzodinma's standpoints on 2023 Igbo Presidency is his myopic and personal views not that of Ndi-Imo or Ndigbo at large. He should be ignored, as he is suffering from verbal diarrhea and lacks the locu standi to speak on behalf of the collective bargaining and aspirations of Ndigbo.
"Governor Uzodinma cunningly changed positions of 2023 Igbo Presidency to 2027, when he hoped to be ready for his already dead presidential ambition."
The Ohanaeze went further to carpet Uzodinma, saying his decision not to support his colleagues on VAT, Southern presidency, and the anti-open grazing policy are sure testaments that the Imo Governor is a traitor.
It added that Uzodinma will suffer the consequences of his actions if he doesn't retrace his steps.
It added: "Our suspicions have been reinforced by the desperate activities to exclude Imo State from being part of the southern Governors resolutions, especially on VAT, Southern Presidency, and the signing of anti-open-grazing laws.
"Ndigbo are bewildered and we ask- can anything good come out of Governor Hope Uzodinma that will make our people happy except for sounds of fury, deaths, and misery of hopelessness that had encircled Imo State."
"We are foreseeing hazards ahead if Governor Uzodinma's continuous pursuit of the 'fifth columnists' agenda is not stopped.
"We are still praying for the good personality of Uzodinma to be resurrected once again, as we suspect that his political Emperors are hypnotizing him like they used Chief Femi Fani Kayode to destroy and mastermind the problems of Mazi Nnamdi Kanu."