2023: I Could Have 'Killed' IPOB Members, But… – Okorocha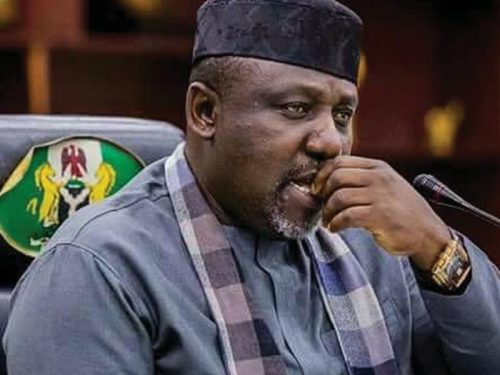 Former governor of Imo State, Senator Rochas Okorocha, has said he could have ordered the killing of members of the Indigenous People of Biafra (IPOB) when he was a governor but he did not.
The Senator representing Imo West Senatorial district at the 9th National Assembly said that he had the opportunity to order a shooting spree on the secessionists like it was done in Okigwe but he decided to listen to them peacefully.
Okorocha said the Nigerian government needs to educate the youths and learn to address their grievances without bloodshed.
Naija News understands that Okorocha stated this on Monday during a 'Conversation with Owelle Rochas Okorocha at 59 and Award of Icon of Service and Philanthropy,' aired by Nigerian Television Authority (NTA).
According to the senator, the Biafran agitators at the time he was still a governor, visited him in Imo and asked him to join them. Okorocha said he never used harsh words on them but only told them to convince him.
He said: "When IPOB started, they came to Imo State when I was the governor, but I listened to them and understood their grievances. They asked me to join them, and I told them if they can convince me to have another (Biafra country) passport, I will join.
 
"I could have asked my men to shoot them as they were killed in Okigwe and other states, but no. I had to listen to know what they were going through.
 
"That is how the Nigerian government should treat the youths, sympathise with them. Treat them well," Okorocha said.
Speaking about the zoning of the presidency, the senator said it would be fair enough to try the Southeast since the other regions have been tested all around.
Okorocha said: "I support the Southern governors on the issue of zoning the presidency and the next region is the South.
 
"We started with South-West when President Olusegun Obasanjo (became the president). Then we went back to the North when we had (Umaru) Yar'Adua. South again with Goodluck Jonathan, and now the North is having it with the incumbent President (Muhammadu Buhari). So, why would it be changed when it is the turn of the South again?
 
"It is a fair thing to do. If this is not done, then APC (All Progressives Congress) becomes a Northern party," the senator said.