Gunmen Disrupt Political Meeting In Enugu, Say No Election In 'Biafra Land'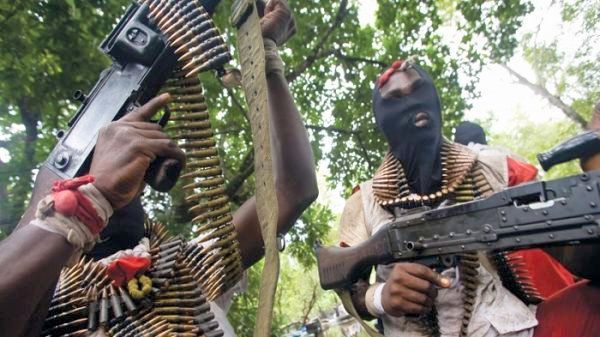 Unknown gunmen have been seen disrupting a political meeting in Enugu West in a viral video on social media.
The gunmen, whose identity could not be ascertained as at the time of filing in this report, vowed not to allow any election hold in 'Biafra Land'.
The armed men stormed the venue shooting sporadically as those at the meeting scampered to safety.
Those unlucky to escape were rounded up by the gunmen, told to lie down in mud and beaten.
Four of the unlucky politicians were captured from the meeting which seemed to have many people in attendance, as the chairs at the meeting venue suggests.
The armed men, as seen in the video, accused the politicians of trying to bring back Fulani to Enugu West.
They also threated to deal with any caught holding political gatherings in Biafra land.
The gunmen accused those at the meeting of trying to bring back those they had chased away.
"What are you doing here? You are here for party politics like you do every four years. Which party?
"Don't you like how we chased away the Fulanis? Why do you want to bring them back? You want to bring problem into Enugu West again. We have asked you people to stop these party campaigns you are doing on our land. You are all here for party campaigns. You are the ones destroying Enugu West. Thunder will fire you. Say yes sir!" the gunmen said.
Asked what should be done them if they tried to organise another political gathering, one of the captured politician said, "kill me."
"We've stopped the campaign on Biafra land. We don't want anybody coming out for anything campaign. There will be no election in this country anymore," a background voice said in the video.