PDP Consititutes National Convention Committee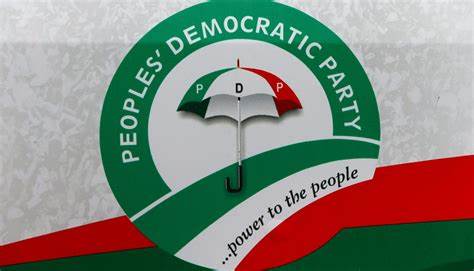 The opposition Peoples Democratic Party (PDP) has constituted a committee for its October 30 and 31 National Convention in Abuja.
Naija News reports that the committee which was inaugurated at the party secretariat in Abuja on Friday will organize the convention to elect the new National Working Committee (NWC).
Inaugurating the convention, the acting National Chairman of PDP, Elder Yemi Akinwonmi, appointed Governor Ahmadu Fintiri of Adamawa State as the chairman of the committee.
The PDP chairman charged the committee to replicate the Port Harcourt 2018 convention which was described as free and fair in the political history of the party.
Akinwonmi said all PDP stakeholders and indeed Nigerians expect nothing less than a successful national elective convention.
Akinwonmi said "I make bold to say, on behalf of the National Working Committee, that the critical stakeholders of the party, are represented in the main committee, so also the geographical zones and the states of the federation are equally well represented.
"By the composition of this committee, Nigerians and indeed, all PDP stakeholders expect nothing less than a successful national elective convention, which was noted for.
"Our last convention in Port Harcourt was adjudged the best ever conducted, by any political party in Africa.
"I, therefore, call on leaders and members of the organising committee to not only sustain but also to improve upon what we experienced in Port Harcourt.
"I call on the chairman, his deputy, secretary and other members of the committee to close ranks, to make sure that their watchword remains success at the end of the event."
Reacting, Fintiri pledged that he and members of the committee would conduct a transparent convention to the admiration of all members.
He also did not rule out a consensus election of new members of the PDP National Working Committee, but said, this would be subject to acceptance of all.
Fintiri said, "With the experience, we have had in the last convention, with the innovation in technology and the rest of them, I think we are going to depart completely from what we had in the last convention.
"Also, considering the calibre of the men and women that make up the convention committee, I have no doubt in my mind that this convention will come out one of the best.
"Nevertheless, if a position is zoned to a particular state, and they decide to field one person, we cannot say because we want to have competition in the convention to force them into a competitive election. We assure you that we are going to conduct one of the freest and fairest conventions which will be the take-off for our party for 2023."