Sam Adeyemi Reveals How Oyedepo Saved His Church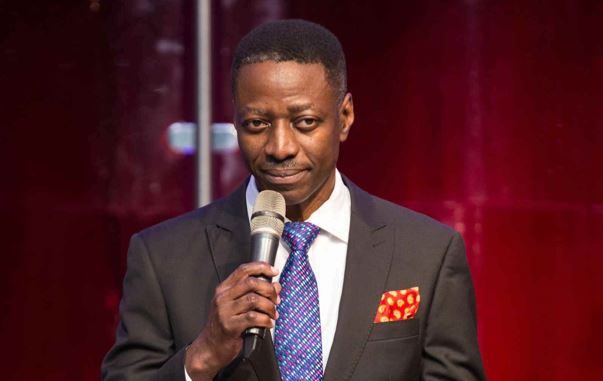 Pastor Sam Adeyemi has revealed how Bishop David Oyedepo saved his church many years ago.
Adeyemi in a video clip posted online said when he first started Daystar Christian Centre it refused to grow as expected, he was unhappy about it and had no idea what to do, so he went to his mentor Bishop David Oyedepo of Winners Chapel and asked for help.
Oyedepo told him to be steadfast and continuous in his work that growth would come at the appointed time.
He Said: "Many years ago, in the early years of Daystar, when Daystar Christian centre was like 2 years after we started, and I was getting frustrated. I was getting frustrated because there were growth targets that we had set, but we were not meeting the target. So, I went to my mentor, Dr Bishop Oyedepo. I said to him: ''Sir, what do you do when you have done everything you know to do about growing the church and the church refuses to grow?''
He said to me, ''you know this growth thing is a seasonal thing, that is why it is written in the scriptures: ''Let us not be wary in well-doing, for in due season, we shall reap '' so, he said when the season comes, the growth will come as long as the farmer continues to put seeds in the soil he doesn't have a problem because it is a matter of season. When the time comes for him to get the harvest, there is a high likelihood he would get the harvest.
He said but if out of frustration, he stops planting, the seeds, he said when the harvest season comes, God will have nothing to multiply for him. So, he said whatever it is, you have been doing, continue to do it. I will never forget that conversation because of the paradigm shift that it gave me. And that reminds me again of the conversation I had with Dr Oyedepo when I was telling him how he had an event. I was telling him how great it was, how powerful the delivery was, by the guest speaker. And when I was done, he said, can I tell you something? He said; don't think that you will grow that church on guest speakers. That church cannot outgrow you.
You are the shepherd that God has put over that church. He said to me, "Why don't you become the person that people want to listen to. I will never forget that statement because it's one of the most challenging statements I ever heard in my life. oh yes, you hear or you did hearing of other people, powerful speakers, so, you want to bring them to a conference so that they help you attract the crowd. So he said you, you would not have said that if he didn't know that I have the capacity to do it. He spoke to that potential when things were not happening fast enough.
One day, I said to my sweetheart, Nike, I said come with me let's go on a retreat, we are going to a guest house, I want to go and ask God whether I'm supposed to be pastoring or not, yes I am getting an invitation to speak everywhere, but the church is not growing.
She said: "But you told me God told you to do this."
I said I need to ask him again. You could imagine what he said. He said "stay back on the job. Imagine if I gave up on Daystar Christian Center, shut it down. In just a few weeks, Daystar is going to be 25, what if I gave up. I charge you today never to give up?"