Yoruba Nation: Sunday Igboho Rejects Planned Protest By Supporters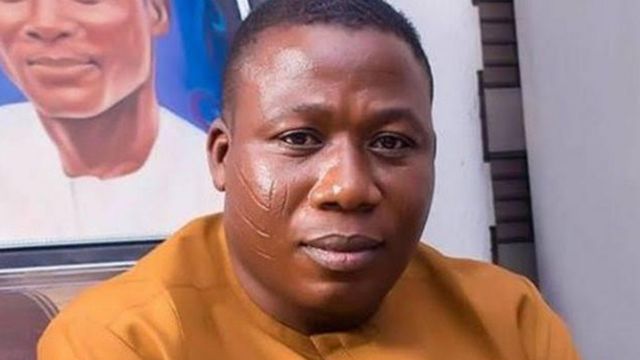 The embattled Yoruba Nation agitator, Chief Sunday Adeyemo popularly known as Sunday Igoho has told his supporters not to proceed with their planned protest.
Igboho issued the directive in a statement on Thursday through his lawyer, Yomi Aliyu, calling on his supporters to shelve their planned protest in his name.
Naija News recalls agitators clamouring for the creation of an independent Yoruba Nation had revealed their intention to resume protests in memory of those killed during the raid by the DSS on the Ibadan residence of their leader and also demand the release of Igboho from custody.
While stating that he understands and appreciates the good intentions behind the planned rally, Igboho who is currently in custody in Benin Republic observed that there is a time for everything.
He cautioned his supporters against organizing any rally in his name and further urged them to ensure no public/private property or security operative is harmed in all they do to agitate for the creation of an independent Yoruba nation.
"There is time for everything. Chief Sunday Adeyemo Igboho Oosa is desirous of respecting those murdered in his house on that black 1st July 2021.
"In that wise, he has advised against staging any demonstration or rally in his name for the time being.
"He will also like people to respect his family by not calling his mum out for anything public. Igboho for now has no authentic mouthpiece anywhere.
"In that wise people are advised to take anything said by anybody claiming to be from him with a pinch of salt.
"Let's respect the dead. On no account should anybody attack any public place or security personnel on the pretence of agitating for the Yoruba nation," the statement reads.
Meanwhile, the Indigenous People of Biafra (IPOB) has denied reports that it has ordered another Sit-at-home for Friday in the South East.
In a statement on Thursday by its Media and Publicity, Emma Powerful, IPOB denied rumours making the rounds that it is set to enforce another sit-at-home in the region.
He stated that IPOB has since suspended the Monday weekly sit-at-home, urging people to disregard the deceptive rumour.