Nigerian Army Begins Recruitment Exercise For 82 Regular Recruits Intake (See Details And Apply)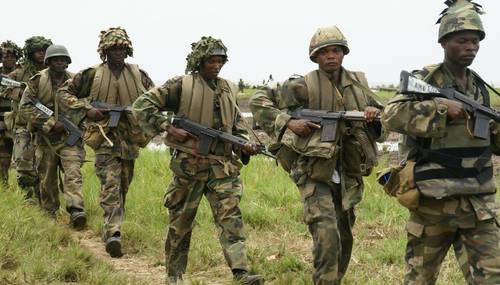 The Nigerian Army has commenced the recruitment process for its 82 Regular Recruits Intake exercise for eligible and interested persons.
The recruitment exercise is for special tradesmen and women as disclosed in a statement on Wednesday by the Army authorities.
Naija News reports that application forms can be obtained online and is entirely free while the application closes on 26th November 2021.
A statement on the recruitment exercise signed by the Chief of Administration (Army), Major General U.S Mohammed on behalf of the Chief of Army Staff (COAS) reads: "This is to inform the general public and all interested qualified candidates of the immediate commencement of online registration for special tradesman and women into the Nigerian Army for 82 Regular Recruits Intake."
The available categories open for application are:
1. Nigerian Army Engineering Corps: Tilling Works (Twks), Draughtsman (D/Man), Plant Operator Mechanic (POM), POP Designer/Screeding, Land Survey (L/Svy) Electrical/Electronics Technology, Carpentry/Wood Technology, Metal Works, Plumbing, Masonry/Concrete Technology, Painting, and Graphics Arts.
2. Nigerian Army Signals Corps: Electrical/Electronic Technicians, Phones/Computer Hardware Maintenance/Repairers, Computer Operators, Ethical Hackers (Cyber Security) and Computing/Computer Forensics Expert, Installation and Maintenance of Audio Conferencing, Installation and Maintenance of Video Conferencing, Design and Installation of Internet Protocol Telephony, Digital Image and Video Processing, Website Management, VSat Installer, Microwave Comms Expert, Rigger.
3. Nigerian Army Intelligence Corps: Knowledge and Skills in UAV, Drone etc, Computer Web and Application Designer (HTML,CSS), Radio and Telecommunication Engineer/Technicians, Network Administrators (Should be able to manage a Local Area Network and Virtual Private Network), Computer Networking, General IT Knowledge, Computer, Phone and Mobile devices repair and maintenance, Geographic Information System, Cybersecurity/Ethical hacking, Server Administration.
4. Nigerian Army Corps of Supply and Transport: Drivers, Firemen, Caterers (emphasis on male) .
5. Nigerian Army Ordnance Corps: Textile Rofitters and Leather Works, Graphic Designers, Spare Part Technicians, Accounting Technicians, Tailor, Textile Technology, Printing Technology.
6. Nigerian Army Electrical and Mechanical Engineers Corps: Vehicle Diesel Mechanics, Vehicle Petrol Mechanics, Fabricators/Panel Beaters, Crane Operators, Hydraulic/Pneumatic Technicians, Caterpillar/Excavator Mechanics, Auto Elect, Powertrans Mechanics(gearbox), Vulcanizers (to be trained as combined rec mech/vulcanizers), Electro Medical, Machinist/instruments, Fuel Injector Specialist, Welders, Upholstery techs, Generator/Power Plant Techs, Spray Painting, Hydraulic Mechanics, electronics Technicians, Mechatronics, Brake System specialist, Truck/Heavy duty Veh Mech, Office eqpt techs, Air condition specialist, Fab/Panel Beater, Lathe/Mill Machinist (Turner), Programmers (Arduino/G Codes), Pneumatics Technician.
7. Nigerian Army Medical Corps: Electron Medicals, Radiographers, Occupational Therapy Technicians, Physiotherapy Technicians, Pharmacy Technicians, Nurses, Xray technicians, Dieticians Technicians, Medical Lab Technicians, Health Information Management, Health Service Admin, Optometry Technicians, Morticians, Speech Therapy Technicians, Dental Technicians, Environmental Health Technicians, Electromedical.
8. Directorate of Army Physical Training (PT): Archery, Athletics, Basketball, Boxing, Calisthenics, Football, Gymnastics, Handball, Judo, Kickboxing, Polo, Shooting, Swimming, Taekwondo, Volleyball, Weightlifting, Wrestling.
To view all other requirements and apply, click the link https://recruitment.army.mil.ng