Edo: 'Stop Acting Like A Dictator' – Adegboruwa Tells Obaseki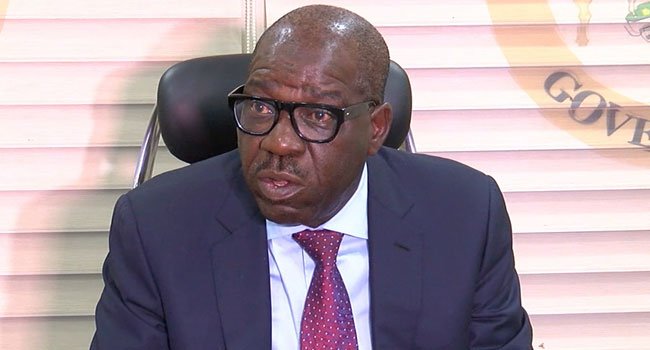 A Senior Advocate of Nigeria (SAN), Ebun-Olu Adegboruwa, has described Governor Godwin Obaseki of Edo State as a dictator.
In a terse article on Tuesday titled 'The Dictatorship in Edo', Adegbruwa said Obaseki is running riot with democracy and good governance for failing to constitute his cabinet a year after his re-election.
The foremost lawyer criticized the state governor for running a 'one-man show' for not appointing any Commissioner or Special Adviser and successfully crippling the state House of Assembly.
He added that Obaseki had refused to swear in lawmakers whom he considered to be disloyal to or pose a threat to his administration
Adegboruwa, however, called on the prominent indigenes and bodies in the state to prevail on the governor to immediately form his cabinet and provide dividends of democracy to Edo people.
The article read; "Believe it or not, Edo State is currently under the yoke of dictatorship, for many months running. Prior to his election for his second term in office, His Excellency, Governor Godwin Obaseki had dissolved his cabinet, comprising Commissioners and Advisers.
"He became more of a lone ranger, trudging along with his Deputy, Comrade Philip Shuaibu, in the run-up to the elections. This was after he had successfully emasculated the House of Assembly of the State, through the Courts. We all thought then that it was going to be a temporary malady, but we now know better. We have a governor who is running riot with democracy and good governance, such that over one year after his re-election, Governor Obaseki has no single Commissioner and no Advisers.
"He is running Edo State upon his whims and caprices, based on his body language or indeed his mood. It is unthinkable that a State blessed with abundant mineral and human resources are being held by its jugular by a single individual, who prides himself as a product of global best practices but is deeply immersed in the ugly cocoon of self-rule. How did this happen and who will rescue our dear Edo State?
"Thus, what is going on presently in Edo State is a constitutional anathema that must not be allowed to fester beyond tolerance. The situation in Edo State is made worse by the absence of a functioning legislature. Even before his election for the second term, Governor Obaseki had successfully crippled the Edo State House of Assembly, by refusing to swear in those of its members whom he considered to be disloyal to or pose a threat to his administration. At a particular point in time, cases were filed in court to declare their seats vacant.
"Under the normal democratic practice, the legislature is supposed to perform certain oversight functions, to conduct hearings and review the performance of the annual budget approved for the executive. It is to take practical steps to avoid waste and to expose corruption in all spheres of government. The House of Assembly of Edo State cannot do any of these as that vital institution has been rendered comatose by Governor Obaseki. Without any doubt, Edo State does not deserve a dictator in office, one who would alone decide the fate of over three million people, one who would alone award contracts, pass his own laws in his own bedroom, make his own appointments in his parlour and execute his own projects according to his mood and feelings. In 21st century Nigeria, there is no place for such crude dictatorship and stone-age rulership.
"It is amazing how the Peoples Democratic Party has been dancing openly in public without shame, claiming to play opposition politics and daily regaling us with the supposed failings of the Buhari administration when it is harbouring a dictator in its fold. Is it not proper to first remove the log in your own eyes in order to enable you to see the speck in another person's eyes? Is the PDP content to perpetuate a one-man rule in Edo State and is, in turn, expecting Nigerians to take it seriously and entrust the government of Nigeria to a group of power-mongering leaders who cannot even manage a single State effectively? Or has Governor Obaseki stopped attending meetings of the PDP?
"How can a single individual be the Commissioner for Works, Commissioner for Land, Housing, Chieftaincy Affairs, Local Government, Finance, Agriculture, etc? What is the experience of Governor Obaseki beyond the touted boardroom politics, to hold Edo State to ransom as if possessed and intoxicated by power? Why is it so difficult for His Excellency to work with people? If he was so powerful, why didn't he undertake his campaign alone during the last election? Why did he appoint campaign coordinators and agents all over the State? Having governed the State for four years, I expected that even at the time of his campaign for his second term, Governor Obaseki should have assembled a team of technocrats to move Edo State forward.
"And if the House of Assembly has been gagged and rendered useless, what is the judiciary in Edo State doing? Where are the activists and the civil society organisations? Or are they also in connivance with the Governor to rubbish the Constitution? Are they part of this sinister plot to rule Edo State from the bedroom of one man? Where are the Comrades from Edo State?
"The Edo infamy has now been exported to Osun and Imo States, where the Governors are running riot in governance without regard to democratic principles. Governor Obaseki cannot seek to govern Edo State in any manner that is inconsistent with the provisions of the Constitution. It should not happen to a State that has produced great and noble minds and patriots.
"The way in which we can move Nigeria forward is to use our individual platforms to promote reforms that we desire for the good of our people. In this regard, Governor Obaseki should retrace his steps and immediately set out to constitute a cabinet for the good people of Edo State and stop his one-man rule forthwith.
"No tenable excuse can be rendered by His Excellency, to explain that one year after his election, he has not found people worthy to be constituted as the State Executive Council, to hold regular meetings with them, to deliberate on policies and programmes that will move the state forward.
"In a State led by a trumpeted technocrat, assisted by a 'Comrade' as his Deputy, we do not expect anything less than transparency, accountability and teamwork. Democracy can never thrive in the house of one man, in the mind of one man and in the office of one man, no matter the depth of his knowledge and experience. Let us have a cabinet in Edo State now!"
Source: Naija News