Edo Deputy Governor Philip Shaibu Allegedly Plotting To Dump PDP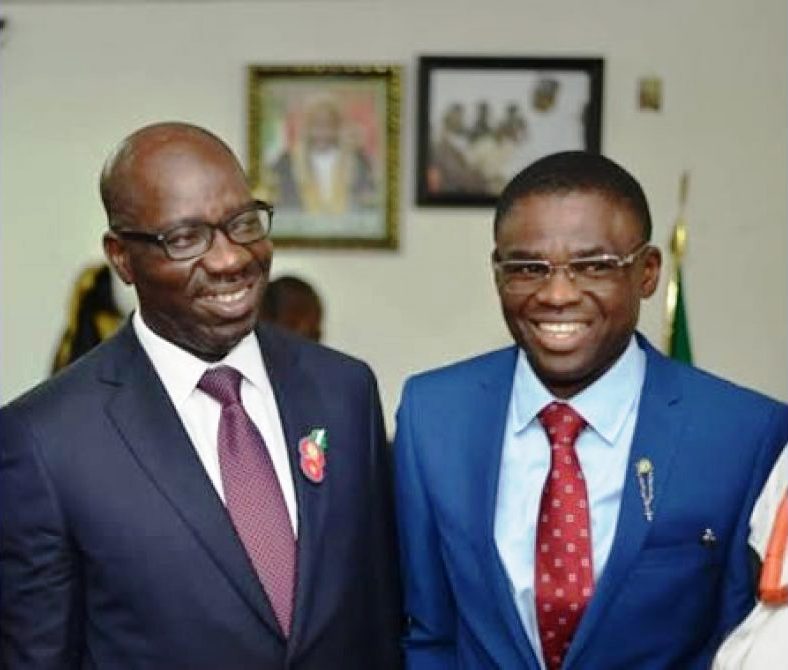 Reports have emerged alleging that the Deputy Governor of Edo state, Philip Shaibu, is plotting to dump the Peoples Democratic Party (PDP).
According to Vanguard, marathon meetings have been held outside the country last week between the Edo Deputy Governor and some party bigwigs in the country ahead of his planned defection.
A source told the newspaper that: "Philip Shaibu is one man I admire as a political tactician and Maradona in the Edo political space. Quitting PDP may frustrate the developmental plans of the Obaseki's administration due to his nuts and bolts experience as a voracious student of politics, as well as his sterling track record and pedigree as a fearless and charismatic lawmaker."
According to the source, there are strong indications that the Deputy Governor may not join any other political party immediately after quitting the PDP
Another source, who spoke under condition of anonymity, said: "This rumour, however, did not come as a huge surprise to many, because the Deputy Governor was once quoted to have said he merely escorted Governor Godwin Obaseki to PDP."
The source said it is a widely held belief across Edo State that Shaibu was, no doubt, the major face of the Edo 2020 governorship election, as many still believe that it was an election between Shaibu and his political father, Comrade Adams Oshiomhole to secure victory for the incumbent.
A source, familiar with the development, told Vanguard that Obaseki's rigid position on some critical decisions are now causing considerable disaffection between the Deputy Governor and some of his most loyal and committed supporters.
But speaking to Naija News, an aide to Governor Obaseki denied reports that Shaibu is plotting to dump the PDP.
The source, who craved anonymity because he was not authorized to speak on the matter yet, said the deputy governor has been on vacation for two weeks hence his silence on critical state issues.
He revealed that this may have given rise to the reports that Shaibu was plotting to dump the ruling party.
According to the source, the deputy governor remains a member of the PDP and a critical stakeholder in the affairs of the state.
When Naija News contacted Benjamin Atu, the Special Adviser to the Deputy Governor, he refused to confirm or deny the alleged defection.
He however disclosed that he is not in Edo State and can not give any adequate response until after meeting Philip Shaibu.
Source: Naija News