VAT: Wike Blows Hot, Threatens FIRS, Vows To Shut Down Oil Companies In Rivers State If…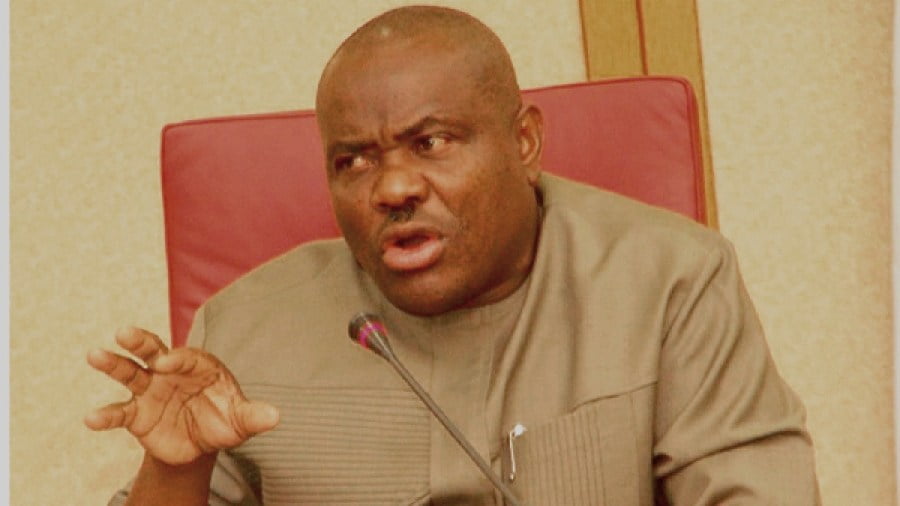 Rivers State Governor, Nyesom Wike has threatened that he would not hesitate to shout down the office of any oil company or other business outfit that continues to pay VAT to the Federal Inland Revenue Service (FIRS) as from this September.
This is as he declared that all VAT payments in Rivers must be made into the coffers of the state government as from the said date.
He also warned the FIRS not to believe it can use federal might to intimidate him as he is a governor that has the political will to talk and execute.
Wike made the submissions on Wednesday in Port Harcourt, the state capital during a televised live meeting with business owners and operators in the state.
Naija News recalls a Federal High Court sitting in Port Harcourt while delivering judgment last month in a suit marked FHC/PH/CS/149/2020 ruled that the Rivers State Government had the powers to collect VAT within its territory.
The FIRS however has moved to object the ruling but the move was rejected by Justice Stephen Pam, and Governor Wike has vowed to implement the court order.
Speaking during the meeting with business people in the state on Wednesday, Wike noted that the injustice where some states generate VAT revenue and some other states share the funds must stop.
He added that he won't hesitate to take over all FIRS offices in Rivers State if the federal government agency insists on using federal might on a case that has been decided by a court of law.
"I overhead the FIRS chairman saying that he will show me the powers of the Federal Government that the Federal Government will muzzle the judiciary. It is not my business. The court has decided," the governor said.
"All these bullying (by) FIRS. They should mind the state they are bullying. FIRS should be very careful. You don't bully a state like us…I have the political will to do a lot of things. I am not one of those governors that will shy away. If they continue to bully us, all their offices in the state, I will take," he stated.
The Governor added that Rivers State will start collecting VAT as from September and the move will be enforced by the state security outfit backed by the law if the Nigeria Police Force doesn't want to cooperate.
"From this September, we will start collecting our VAT," Wike said, adding that we "will not look back but seal up the premises of companies" who fail to comply with the new directive.
Source: Naija News