Sunday Igboho's Aides Sue DSS For ₦100 Million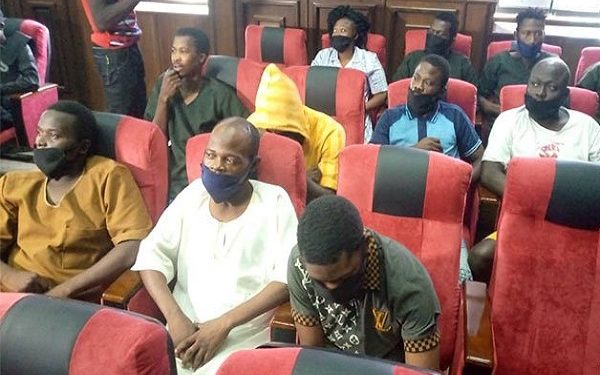 The 12 aides of embattled Yoruba nation activist Sunday Adeyemo, popularly known as Sunday Igboho, had sued the Department of State Services, DSS, for violating their rights.
Naija News understands that the aides are suing the secret police for parading them before the media as criminals before the ruling of any court.
The suit was filed before vacation judge, Justice Obiora Egwuatu of the Federal High Court.
The Yoruba activist aides asked the court to declare their detention beyond 48 hours and their media parade without a court conviction, constituted a breach of their fundamental rights.
They also sought an order of perpetual injunction restraining the DSS from interfering with their personal liberty and freedom of expression.
Sunday Igboho Aides also sought for an order granting the sum of N100 million for aggravated and exemplary damages against the security outfit, for what they termed a serial breach of their constitutional rights.
This newspaper had earlier reported that DSS lawyer Idowu Awo had claimed that armed robbers allegedly stole his case file.
According to Awo, his colleague who was to bring the case file to court had boarded a vehicle belonging to armed robbers commonly known as 'one chance.'
The DSS lawyer said his belongings including the case file were hijacked by the armed robbers.