I Met Bandit Terrorists Because Of You – Sheikh Gumi To Nigerians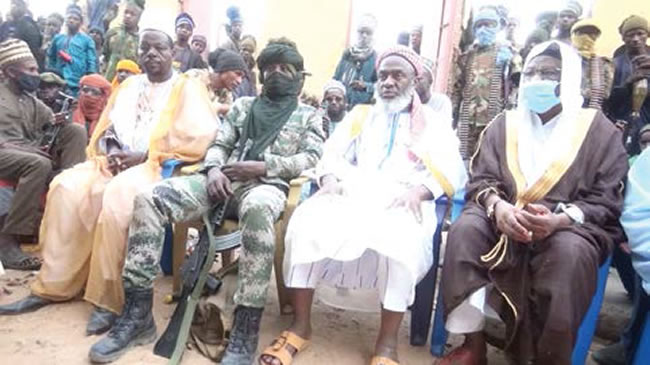 Controversial Islamic Cleric, Abubakar Ahmad Gumi, has disclosed that he met bandit terrorists in the north because of himself and Nigerians.
Naija News reports that the Kaduna-based Islamic Scholar stated this during a lecture at the Ahmadu Bello University (ABU) Zaria.
He dismissed reports that political reasons were behind his meeting with bandits.
Gumi said: "We went into Kidanda forest to meet repentant bandits with the then-police commissioner (Umar Muri). From the South of the forest, you'll see amulets all deserted. So one of the bandits, when he was speaking, told the police commissioner, 'if not because of this Sheikh, you will not come here.
"What I'm trying to emphasize here is that it is dangerous to go and meet armed bandits.
"So I'm not doing it for a politician. I'm doing it for you and for me.
"And we cannot allow the politicians to mess up our country.
"So, we're doing it for ourselves. There's no political intonation."
Meanwhile, respected newspaper columnist and public affairs commentator, Alhaji Majeed Dahiru, had identified Sheikh Ahmad Gumi as the most dangerous individual in Nigeria, describing him as an unabashed terrorism sympathizer.
Gumi had taken to his Facebook page to declare on Monday that bandits who are terrorizing states in the northern region of the country are going nowhere.
The pundit, who said he had taken time to read Gumi's write up, summarised some of the arguments contained therein as follows: "Gumi was trying to claim that the bandits are actually victims rather than perpetrators, basing his claims on the sending of troops after some cattle rustlers in 2014.
"He also wrote about how Sharia was introduced in Zamfara State but was opposed by some people who made it not to work such that it became a political experiment; that if it had succeeded in 1999, maybe Islamic rule in Zamfara State would have prevented what is happening today."
Dahiru, who spoke on AIT breakfast show monitored by Naija News, then declared that "Gumi has become the single most dangerous individual in Nigeria today", wondering why security agencies in charge of intelligence gathering and evaluation are yet to invite the cleric over for debriefing.
Source: Naija News