Medical Doctor Exposes How His Colleague And Best Friend Snatched His Wife
A medical doctor that goes by the name Anthony Chijioke has made a shocking revelation of how his colleague snatched his wife aided by his best friend.
Anthony had taken to his Facebook account to reveal how the incident had occured. He had claimed that Dr George Davidson Ozuzu whom had attended the same medical school with him snatched his wife after inviting her to Nigeria.
He said his colleague and his wife slept with each other in Abuja and his bestfriend, Doctor Signor Onukwugha Amachukwu who had also serve as a witness to their wedding was privy to it.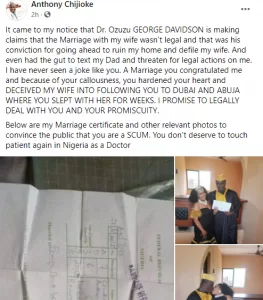 He alleged that Signor had taken pictures of his wife and Doctor George publicly displaying affection in public even though he had taken an oath in court as a witness and friend.
He went ahead to call on the Medical And Dental Council of Nigeria and also the University of Portharcourt Senate to take some steps against George as his actions were unacceptable and would paint the institutions in a bad image.
He attached images of his wife and her lover with certificates and pictures as proof of their marriage.
Source: Naija News