Benue: "In This World Of Ours Demons Become Saints" – Akume Replies Ortom Again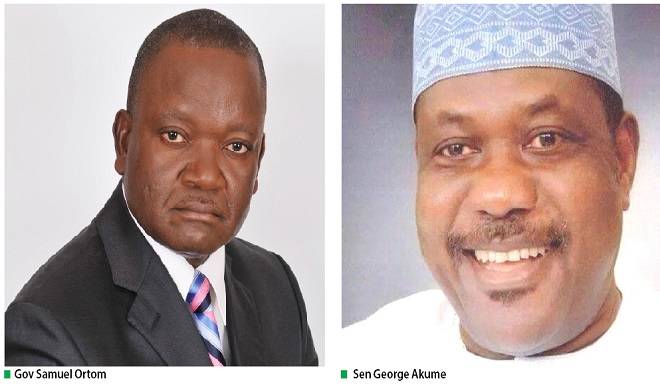 The public exchange of words between the Minister of Special Duties and Intergovernmental Affairs, Senator George Akume, and Benue State Governor, Samuel Ortom has continued, this time with the Minister throwing the punch.
With neither of the two Benue State leaders ready to sheathe swords on affairs in the middle belt state, they have continued to drag each other publicly, throwing accusations and counter-accusations.
Addressing a crowd of supporters at the City-Bay, Makurdi, the capital city of Benue yesterday, Akume accused Ortom of failing to address important issues raised in his press conference but rather decided to hurl insults at him.
It will be recalled that Akume had called on the two anti-graft bodies in the country, EFCC and ICPC to investigate the financial dealings of Ortom since he became Governor and also told the Benue Governor to apologize to President Muhammadu Buhari.
However, Ortom in response said Akume intentionally wants to ridicule him publicly, later dragging him before a court of law for character defamation.
In a reaction while addressing his supporters, Akume said it is unfortunate the Governor chose to ignore important issues raised during the press conference which was targeted at making Benue State better.
He alleged that salaries, pensions, and gratuities of workers are not getting paid in Benue and those are issues he called the attention of Governor Ortom to.
The Minister added that, unlike the Governor, he has never put on the cloak of self-righteousness.
According to Akume, "About a week ago some sons and daughters who met in Abuja to take a look at outburst in Benue and we are worried about the volume of insult been heaped on the daily basis by the governor n of the state.
"We have learned that a new chapter has been added to governors structure in Benue State and that is the compendium of lies and innuendos.
"It has become a veritable act in the governance of Benue at a certain level you avoid lies you don't have to tell your people lies.
"What we crafted we thought was in the best interest of Benue State and we expected the governor to carefully go through the documents and see the remedial measures.
" If we asked the government to pay the salary of workers which is their right our people, are we making a mistake, if we asked of our poor parents who have toiled and sweated and got bloodied to train is to be paid pensions are we making a mistake?
"Is that too much of the demands to talk about gratuities that are pending and will continue to pend?
"So we just invited the govt to act on that instead of answering the queries raised it rather generated a lot of insults in press conferences.
"I have never called myself an angel and am not one. But in this world of ours demons become saints and saints are demonized such is life," the minister said.
Source: Naija News