FG Set To Give Nigeria New Revenue Sharing Formula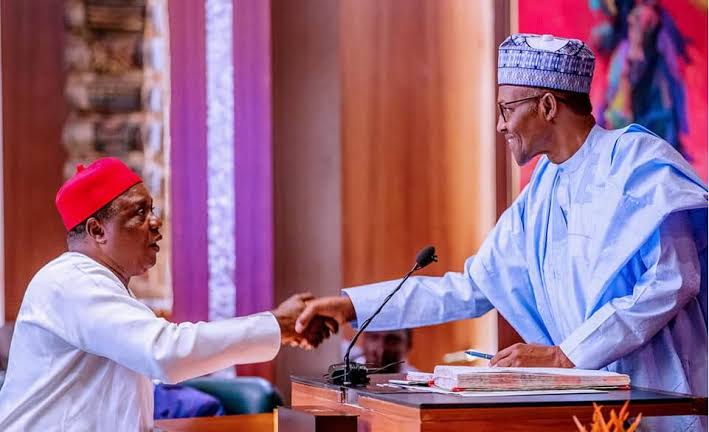 The Revenue Mobilisation Allocation and Fiscal Commission (RMAFC) has said that the Federal Government is set to give Nigeria a new revenue sharing formula.
This is even as the Commission recounted the many failed attempts by Nigeria to review and amend its formula for distributing the country's wealth among the federal, the state, and the local governments in the federation.
RMAFC Chairman, Mr Elias Mbam, who made this known while addressing journalists in Abuja, however, said the government has programmed to complete its review process by the end of 2021.
"I want to reiterate that the Revenue Mobilisation Allocation and Fiscal Commission is highly determined to produce within the shortest time possible, a new revenue sharing formula that will be fair, just, and equitable to the three tiers of government," he said.
According to Mbam, the Commission has commenced the process of sensitization to the review of the revenue allocation formula.
He said, "The review of the revenue allocation formula will involve the following activities: literature review of Revenue Allocation in Nigeria dating back to the pre-independence period.
"Study of fiscal matters relating to revenue allocation; invitation to memoranda from the Public sectors, individuals and private sectors across the country to allow for wider coverage.
"Visitation to the 36 states and 774 Local Government Areas to sensitize and obtain inputs from stakeholders.
"Wide range consultations with major stakeholders including leaders and elder statesmen; public hearing in all the Geo-political zones; and administering of questionnaires."
Meanwhile, State governors in Nigeria have demanded a restructuring of how revenue in the federation account is shared between the federal government and the states.
The Governors want to take 42 percent of the revenue while the federal government retains 35 percent and 2.3 percent goes to the local governments.
This position was reiterated by the Ekiti State Governor, Kayode Fayemi who is also the Chairman of the Nigeria Governor's Forum (NGF) in Abuja.