COVID-19: Sanwo-Olu Declares 1,094 Travellers Missing From Isolation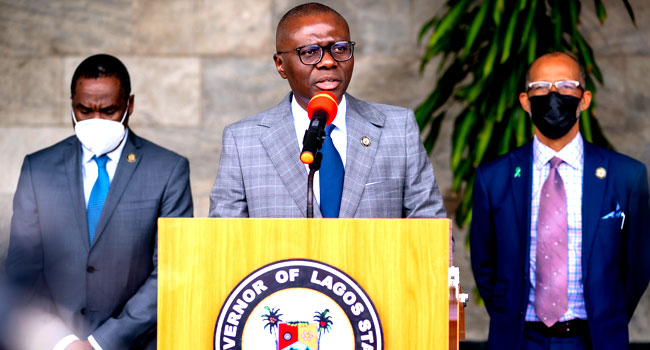 Governor Babajide Sanwo-Olu of Lagos State has raised an alarm that 1,094 returning travellers have run away from isolation centres in the state.
The governor made this known on Monday while giving an update on the COVID-19 pandemic in the state at the State House, Marina.
According to Sanwo-Olu, the absconded travellers are from red-listed countries such as India, South Africa, Brazil, and Turkey.
He stated that the 1,094 travellers are part of those 5,998 returning travellers identified by the state government as of Saturday, adding that 4,500 people who arrived from the red-listed countries have been successfully isolated.
Sanwo-Olu disclosed that a total of 1,073 inbound passengers out of 88,847 who arrived in Lagos via the Murtala Mohammed International Airport between May 8 and August 21 have tested positive.
He berated Nigerians who run away from isolation, saying that those travellers absconding were directly putting the rest of the country at risk of the third wave of the pandemic.
The governor also condemned travellers disregarding the COVID-19 protocols on mandatory isolation put in by the Federal Government to curb the spread of the dreaded virus.
Sanwo-Olu disclosed that as of Saturday, Lagos had recorded 70,563 cases, out of which 60,716 have recovered in-community and 4,387 are being managed actively in-community.
He added that over the course of managing the pandemic, about 5,551 patients have been admitted into various government facilities with 506 registered fatalities.
Governor Sanwo-Olu disclosed that of these deaths, 135 have happened in the current third wave of the pandemic.
He blamed the emergence of the third wave on non-adherence to the laid-down health protocols designed to mitigate the pandemic.
The governor, therefore, informed the residents that they have a huge responsibility of contributing to the fight against the virus.
He hinted that the state government has taken substantial steps to arrest the third wave in its tracks, especially with the increased monitoring and enforcement exercise by members of the Incident Command structure.