Court Denies DSS' Request To Further Detain Four Igboho's Aides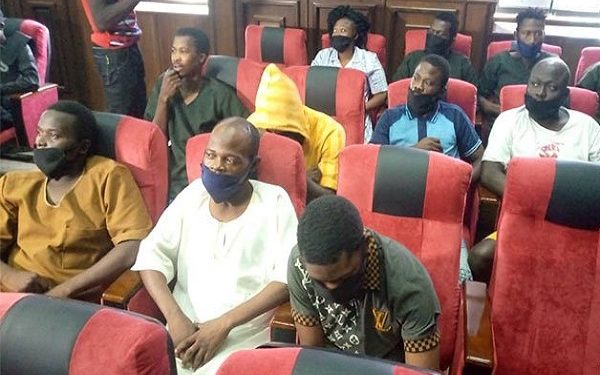 The request made by the Department of State Services (DSS) seeking to further detain four of the 12 aides of Yoruba nation agitator, Sunday 'Igboho' Adeyemo, has been denied.
Naija News reports that Justice Obiora Egwuatu of the Federal High Court struck out the suit filed by the secret police following the dramatic withdrawal by its counsel, Idowu Awo.
At the resumption of the case on Tuesday, Awo stunned the court just as the motion was about to be heard, announcing his decision to withdraw the case.
Rather, he informed the court that he had filed a notice of appeal against the bail granted to four out of the 12 detainees.
The DSS lawyer stated that he would prefer to pursue the appeal at the Court of Appeal.
Thereafter, Justice Egwuatu struck out the motion following the no objection by the detainees' lawyer, Mr Sunday Adebayo.
In early August, an Oyo State High Court granted an ex-parte motion prohibiting the DSS and Attorney-General of the Federation (AGF), Abubakar Malami, from arresting Sunday Igboho.
The court also went further to restrain the DSS and Malami from freezing Igboho's financial assets, as well as restrict any form of intimidation and harassment by the duo.
The DSS paraded Sunday Ighoho's aides on July 1 after a raid on the agitator's home in Ibadan, the Oyo State capital.
During the operation, the security operatives arrested 12 of them and moved them to Abuja where they were detained for alleged stockpiling of arms.
Thereafter, the suspects filed an application through their lawyer, Pelumi Olajengbesi, in which they prayed the court to inquire into the circumstances that led to their arrest and detention since July 2.
Olajengbesi had also prayed the court to admit his clients to bail, a request that was granted by Justice Egwuatu on August 4.