More Woes For Pastor Who 'Snatched' Member's Wife As His Son Releases New 'Implicating' Photos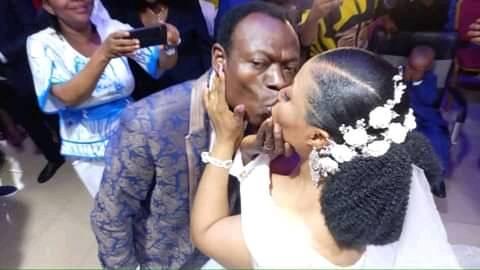 Peter Adesoji, the son of the General Overseer of Word Bank Assembly Pastor Moses Adeeyo, who married his member's wife, Tina Bright, has released new loved-up photos of his pastor father and mother.
This is coming a few hours after the pastor, Moses Adeeyo was thrown into the spotlight for marrying his church member's wife.
Naija News earlier reports that an aggrieved husband, named Bright Ben called out his former pastor, Moses Adeeyo, accusing him of snatching his wife, Tina Bright now Tina Peter,
However, Tina via a social media video refuted the claims that the pastor snatched her away from her husband.
According to Tina, her pastor cum husband is godsent who help her heal from the afflictions and pain Bright, her former husband subjected her to. She also added that her marriage with Bright has been long dissolved by her family due to the constant abuse. 
The new photos shared by Peter, who earlier made it clear that his father did not divorce his mother before remarrying captured moments his dad Pastor Moses, his mum Mercy Adeeyo, his sister and himself having family time together.
The photos include the ones taken at his parents' wedding and photos capturing different occasions in their lives as a family. 
Sharing the photos, He wrote: "Friends and Mentors all over the world, my family needs your prayers right now, pls no negative comment thanks."
See photos below;