Bola Tinubu Allegedly Undergoes Surgery In US, Back To UK On Crutches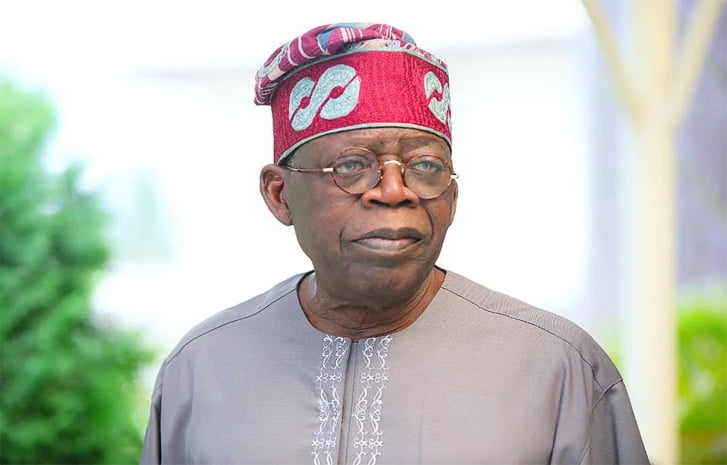 The National Leader of the All Progressives Congress (APC), Bola Ahmed Tinubu has allegedly undergone another knee surgery at the John Hopkins University Hospital in Maryland, the United States.
It was gathered that the former Lagos State Governor returned to the United Kingdom on crutches after undergoing the successful surgery.
According to SaharaReporters, sources revealed that the 2023 presidential hopeful wanted the surgery in Paris, France but changed his plan over rumour of his death.
The source said: "Tinubu had his second surgery at John Hopkins University in Maryland recently. He was accompanied by a popular Nigerian doctor in Chicago.
"He had wanted the surgery in Paris but when rumour was rife about his death, he hurriedly left for Nigeria and went to John Hopkins.
"He left the US for the UK on crutches."
Recall that SaharaReporters had on July 13 claimed that Bola Tinubu was hospitalised in Maryland, the US.
the former Governor was reported to have had his first surgery.
Tinubu had been away from the political scene for a while, amidst reports of him planning to take over from President Muhammadu Buhari in 2023.
"Tinubu is hospitalised in Maryland, US. His health is failing. He couldn't participate in launching his Arewa library, and he couldn't participate in the Local Government Area elections last week. He could not attend today's APC congress due to health reasons.
"He had surgery last week," an authoritative source had disclosed.
Tinubu was also reported sick and hospitalised in Paris, France in January, 2021.
He had earlier complained of exhaustion and had travelled out to rest before the news of his collapse gone viral.
He was flown to Paris for medical attention in the first week of January.
"Tinubu is in Paris, France for a medical checkup. His health is deteriorating. Old age and other stuff, but he still wants to be president. This could mean another medical tourism presidency for our country," a top source had at that time revealed.
But an aide to the former governor, Tunde Rahman, disclosed that his principal has not been hospitalised.
He insisted that Tinubu has no medical problem that would required hospitalization, saying the APC leader would soon be back.
Rahman said, "His Excellency Asiwaju Bola Tinubu is fine. He is hale and hearty. He is not in any hospital. He has no medical problem that would require hospitalization. Yes, he is out of the country at the moment. He will be back shortly.
"Anytime he travels out of the country, the next thing some mischievous people would say is he is sick, hospitalized or has died. It is shameful that perpetrators of this evil are not deterred by the fact that each time this fake news has been propagated, they have been proven wrong.
"Who is afraid of Asiwaju Tinubu? Those wishing Asiwaju Tinubu evil or dead should be careful. They should know the matter of life and death is in the hand of only God Almighty."
Governor Babajide Sanwo of Lagos State had after a recent visit to Tinubu maintained that the APC national leader is in good health.
According to the Governor, Tinubu is well and healthy contrary to some reports about his ill health.
"My going to see our leader was really around the rumours flying around about him.
"He is well and healthy. We discussed happening in our party and country at large. All is well with him as I saw myself and there is nothing to worry about," Sanwo-Olu declared.