How I Met Maryam In 1969 – IBB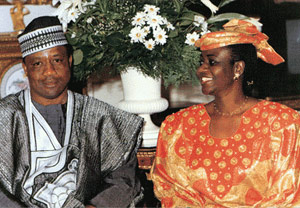 Nigeria's former military president, Ibrahim Badamosi Babangida (IBB), has revealed how he met his late wife, Maryam Babangida.
In an interview with ARISE TV at his Hilltop Residence in Minna, Niger State, on Friday, Babangida said he met his late wife after getting injured during the civil war in 1969.
The former military leader revealed that Maryam and her family members, accepted him and they get married immediately.
He said: "In 1969 (during the Civil War), I was wounded in Ozokuli in Abia. I was lucky I got to Lagos, I was flown on that same day which is very unusual but God was kind.
"General Gown got married around that period, April/May and he was my Commander-in-Chief. I was very impressed with how the marriage went and I said to myself then, because I was on a hospital bed.
"I said 'I could have been dead and I wouldn't be able to be a married man like my Commander-in-Chief at the time. So, I made up my mind to get married the moment I get out of the hospital bed, and God was kind I got well and came back so getting married become my first priority.
"I knew her, I was very frequent in their house and her brothers and cousins were very friendly with me and when I asked (for her hand in marriage), there was no opposition whatsoever. A few months later, we got married."
Explaining why he has not remarried since the death of his late wife, Babangida said that he is yet to remarry due to his choice of selection, adding that women do not like his face.
Naija News reports that the wife of the former head of state, Maryam died December 27, 2009, in the United States of America after battling ovarian cancer.
Maryam was admitted at the University of California's Jonsson Comprehensive Cancer Center in Los Angeles.