Nnamdi Kanu: Lawyers Mount Pressure On UK, Seek Diplomatic Protection For IPOB Leader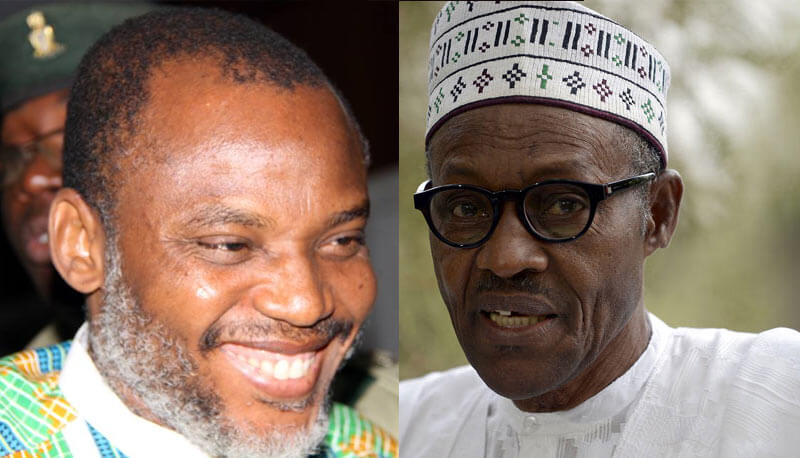 Lawyers in the United Kingdom are engaging the British government over the continued detention of the leader of the Indigenous People of Biafra (IPOB), Nnamdi Kanu.
This was made known on Tuesday by a special counsel to the IPOB leader, Aloy Ejimakor.
Nnamdi Kanu's lawyer told ThePUNCH that the Department of State Services had yet to allow the IPOB leader to sign documents that would give him access to consular support.
Ejimakor said, "In the interim, our colleagues in the UK at the Bindmans Law Firm are ramping up their engagements with the highest levels of the British government.
"I expect that sooner than later, those engagements will yield the diplomatic protection to which Kanu is entitled as of right as a British national in good standing.
"My confidence is hinged on the countervailing measures the UK had taken in the wake of the failed extraordinary rendition of Umaru Dikko in 1984. As a citizen, Kanu is entitled to more than Dikko got as a mere resident."
Another counsel of the IPOB leader, Ifeanyi Ejiofor, said in a statement titled, 'UPDATE', on Tuesday, "Given the fact that our client, Mazi Nnamdi Kanu, was not produced in court yesterday (Monday) and serious safety concerns being entertained by all and sundry, and more especially in keeping in line with subsisting court order that directed for specific visiting hours and days, may I respectfully put the world on notice and millions of our supporters that I will personally be visiting our client, Mazi Nnamdi Kanu, on Thursday, July 29, 2021."
Naija News had earlier reported that the IPOB leader's trial was adjourned till October 21st, 2021.
Justice Binta Nyako adjourned the trial on Monday at the resumption of proceedings at the court in the Federal Capital Territory (FCT).
The trial suffered a setback after the DSS failed to produce the pro-Biafra agitator in court.
Justice Nyako also rejected a request to transfer Nnamdi Kanu from the custody of the DSS to Kuje correctional centre.
Ifeanyi Ejiofor had asked Justice Nyako to transfer Kanu as he cannot get a fair trial if he remains in the custody of the DSS.
He also sought for an order to grant him access to his medical doctor for the purpose of carrying out a comprehensive independent medical examination on him.
Ruling on the application, Justice Nyako ordered that the DSS should allow access to Kanu, although it won't be a free-for-all.