Sunday Igboho Moved To New Detention Facility In Benin Republic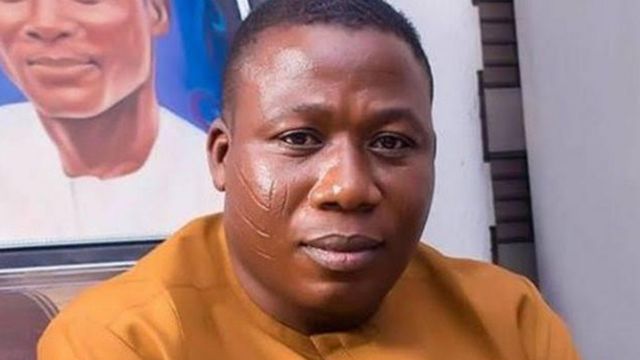 The Court D'Appal of Cotonou has ordered the transfer of Yoruba Nation agitator, Sunday Adeyemo, popularly known as Sunday Igboho, to a new detention facility.
It was gathered that Igboho's counsel had complained that his fundamental human rights were being tampered with.
The Yoruba activist had reportedly been kept in prison with his leg in chain and his hands cuffed.
According to Ibrahim Salami, one of the Cotonou, Benin Republic-based lawyers of Sunday Igboho, the activist needed support to eat and use the toilet.
Before the new order, Igboho was detained at Brigade Criminelle facility.
The activist has now been moved to Cotonou Civil Prison detention facility, according to reports.
Naija News reports that the Court D'Appal, which was expected to start hearing the case at 10:00 am, barred reporters and supporters of Igboho who besieged the premises. The hearing commenced at about 5:00 pm.
Supporters of Igboho were dispersed from the premises of the court later in the evening, prompting fears that he might be deported to Nigeria.
The government of Nigeria had accused Sunday Igboho of trafficking in arms, inciting violence to disrupt public peace, and agitating for secession. It also sought his extradition to Nigeria.
Igboho and his wife, Ropo, were arrested at the Cardinal Bernardin International Airport, Cotonou, last Monday while trying to catch a flight to Germany.
However, Ropo, who is a German citizen was set free by the court on Thursday while the self-styled agitator was remanded in the custody of Brigade Criminelle in Cotonou.