Latest Biafra/IPOB News For Saturday, July 24th, 2021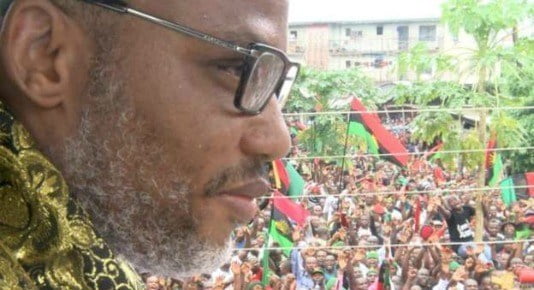 Good day, Nigeria, welcome to Naija News roundup of Biafra/IPOB news headlines for today Saturday, July 24th, 2021.
Below is a roundup of top stories on Biafra, IPOB, ESN, Nnamdi Kanu and other pro-Biafra groups:
The convener, Concerned Nigerians group, Prince Deji Adeyanju, has called on members of the Indigenous People of Biafra (IPOB) to storm the Abuja High Court on Monday.
Naija News reports that IPOB leader Mazi Nnamdi Kanu will on Monday, July 26th begin his trial after extradition from Kenya.
Adeyanju, a former member of the Peoples Democratic Party (PDP), explained that such action is the only language President Muhammadu Buhari understands.
According to the activist, Nnamdi Kanu's supporters should not be afraid to storm the court and show solidarity on Monday.
A former Director-General of the Nigerian Institute of International Affairs (NIIA), Prof. Bola Akinterinwa, has berated the federal govt over its treatment of IPOB's Nnamdi Kanu.
Nnamdi Kanu, who is a holder of Nigerian and British passports, was reportedly rearrested in Kenya and extradited back to Nigeria on the 27th of June, 2021.
He was then arraigned before Justice Binta Nyako who ordered his remand in the custody of the DSS until his next trial date which is July 26 and 27.
A brother to the leader of the Indigenous People of Biafra, Nnamdi Kanu, Emmanuel, has noted that the IPOB leader was fighting for Christians and the oppressed in Nigeria.
Kanu's brother claimed that the IPOB leader committed no crime to warrant persecution.
Emmanuel while speaking in Umuahia, the Abia State capital, said the federal government has no moral grounds to try Kanu.
He further stated that the Federal government has not explained how Kanu was brought back to Nigeria in a breach of international laws.