We Are Watching You – EFCC Warns Corrupt Politicians, Others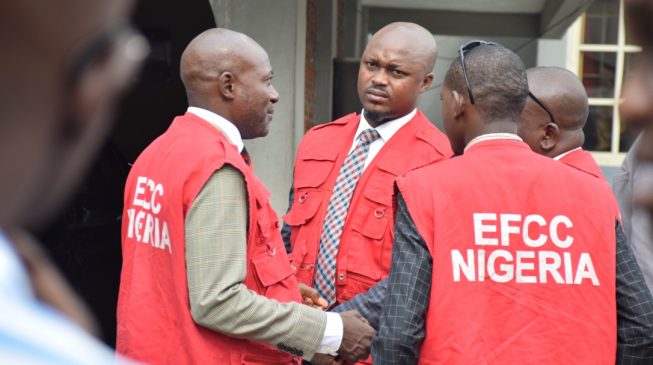 The Economic and Financial Crimes Commission (EFCC) has warned Nigerians involved in corrupt and shady practices that the long arm of the law will soon catch up with them.
The EFCC urged politicians embezzling public funds, Yahoo boys, and others involved in all forms of financial malpractice and shady deals to desist or face the wrath of the law when caught.
This is as the anti-graft agency in a post on its social media account on Friday, warned that it is watching all those involved in such illegal activities.
"This is for the shady leaders that embezzle Nigeria's money to other countries.
"This is for the Yahoo boys that are bent on spoiling the Country's name Overseas all for living a flamboyant life.
"We just want you all to know that there is an eye watching you.
"It's only a stubborn fly that follows a corpse to the grave. Anyone that has ears should use it and desist from fraudulent activities.
"The Eagle is watching, EFCC is watching you and soon we will get you anywhere, anytime! Shun financial crimes and corruption," the commission warned.
Meanwhile, President Muhammadu Buhari-led government on Thursday told the Federal High Court in Lagos that it has not stopped Nigerians from using the microblogging platform, Twitter.
The Attorney-General of the Federation, Abubakar Malami, on behalf of the Federal Government made this claim in a counter-affidavit they submitted in response to an originating motion filed by human rights lawyer, Inibehe Effiong.
The Federal Government had on June 4, 2021, suspended the social media platform barely two days after Twitter deleted a tweet by President Buhari.
Source: Naija News