'Big Shame'-Nigerians React To Photo Of Senator James Manager Kneeling Before Ex-convict James Ibori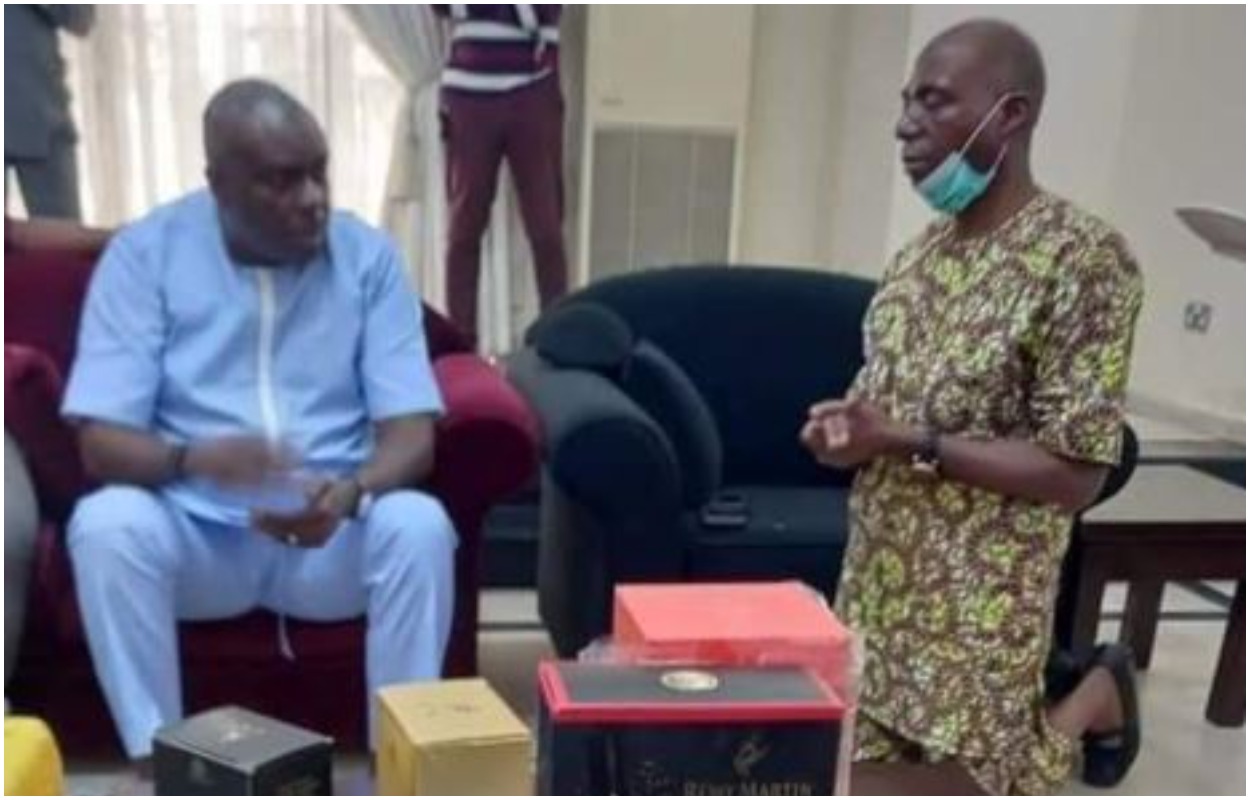 Nigerians on social media have reacted to the viral photo of a five times Senator James Manager of Delta South Senatorial District seen kneeling down to ibori for aspiration to be the next Governor of Delta State.
In the photos that has become a growing sensation, the 61-year-old Senator representing Delta South Senatorial District in the Red Chamber of the National Assembly, Senator James Manager, was captured on his knees before former Delta State Governor, Chief Onanefe James Ibori, most likely in his Oghara residence.
Ex-convict, James Ibori who looted the Delta state purse and was arrested in UK for money laundering still hold head as PDP delta state political power.
It was gathered that Senator Manager is one of the candidates that Ijaw people are planning to push to be the state governor in 2023. 
See photo below;

See some of the reactions below;
@Ahmed0336 wrote; 'Whether people like am or not ibori Na strong force in Delta politics.'
But God Almighty Na Baba for everything.
@donbachi wrote; 'Everybody need help and dont ever mess with those bigger than u.'
@Nero2face wrote; 'And someone still believe there's hope for this country, big shame'
@Rugaria wrote; 'The way James Ibori has held down Delta State for years without interruptions is unbelievable! No other state in Nigeria has been able to witness this kind of political dictatorship. Not even Lagos. Even when he was in prison, no rancor, no noise, no opposition. From prison in the UK, he kept his cousin as governor. Okowa that is there today prides himself as his protege! Openly too! Billions are seamlessly looted this way as Delta State suffers and yet the many egg heads and technocrats from that state simply keep quiet. It's unbelievable!'
@Prince wrote; 'Even the current governor is friends with Ibori.The man is just too powerful in delta politics.'
@WarriApoko; 'No shame say he dey kneel down for criminal wen loot d state.'
@Bigsarah wrote; 'One man mafia, but if its to be a governor of an oil rich state in a corrupt country, even me sef go lay down flat. I don't support corruption, but it's obvious, there's no solution to corruption in Nigeria since we'll always pick sides based on tribal or religious lines…'
Source: Naija News