Falana Takes Over Case Of Teenager Killed During Yoruba Nation Rally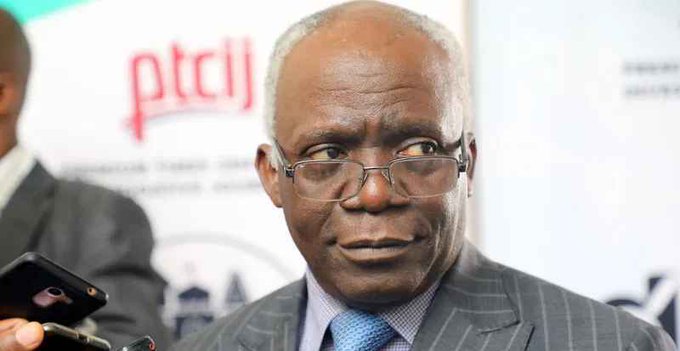 Human rights lawyer, Femi Falana (SAN), has taken up the case involving the killing of a 14-year-old hawker by bullets allegedly fired by a security agent dispersing Yoruba Nation agitators.
Naija News reports that the Lagos State Command of the Nigeria Police Force had denied responsibility for the death of a 14-year-old female hawker.
The Police in a reaction after the news of the girl's death went viral said its operatives present at the scene of the planned rally didn't fire any live bullet.
According to the police, the corpse has been discovered not to be fresh after investigations.
The police added that the girl might have died from wounds sustained from a sharp object injury.
But the Lagos state government, not satisfied with the police statement, has begun an investigation into the death of the young girl.
Speaking to The PUNCH on Wednesday, a lawyer from Femi Falana chamber, Taiwo Olawanle, said Falana wrote to the state chief coroner to request an inquest.
"The police are also doing their part and they have assured us that there is going to be justice and they assured us that if any of their men is found culpable, they will make sure he is charged to court and made to face trial," he added.
Recall that Falana had on July 4th 2021 described the killing as reckless and premeditated.
According to the popular lawyer, the police violated Section 83 (4) of the Police Establishment Act 2020 which borders on the provision of adequate security by the security agency for citizens on peaceful rallies and protests.
Falana said, "The police violated Section 83 (4) of the Police Establishment Act 2020 which has imposed a legal obligation on the police to provide adequate security for citizens who embark on peaceful rallies and protests. Since the police had illegally dispersed the peaceful rally with cannisters of teargas, the shooting of the 14-year-old trader by the police was premeditated murder.
"The denial of the cold murder of the trader by the police is a diversionary ploy to shield the actual culprit from prosecution. In view of the hasty denial of the police in the dastardly act, we call on the Lagos State Government to ensure that a coroner's inquest is conducted into the reckless killing of the teenager."
---
---
© 2023 Naija News, a division of Polance Media Inc.