Video: Moment Fr Mbaka Rejects FG's Job Slots, Demands Two Things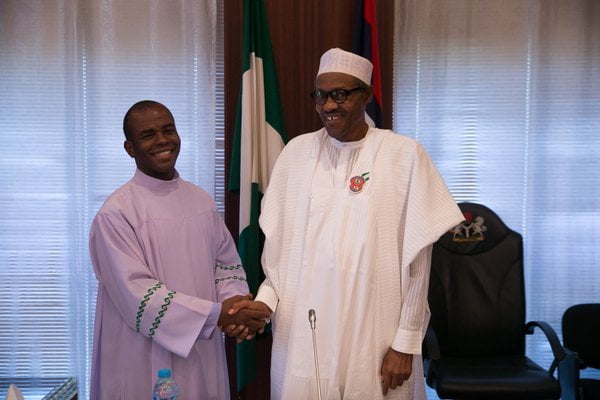 The Spiritual Director of the Adoration Ministry Enugu, Rev Fr Ejike Mbaka, has in a viral video revealed how he rejected two job slots from the Federal Government of Nigeria.
According to the controversial clergy in a 28minutes video, he was at a meeting with government officials under the President Muhammadu Buhari led government where he was offered two job slots.
Mbaka said he rejected the two offers as he would not need them. He, however, said he clearly stated at the meeting two slots he needed from the government.
Among his requests is the release of the arrested leader of the Indigenous People of Biafra, Mazi Nnamdi Kanu.
Mbaka who spoke during a sermon at his Adoration ministry said the arrest of the IPOB leader has not stopped insecurity in the country, hence he should be released.
Mbaka added that if things were working well in the country Kanu would not be an issue for the government.
He said, "Since you arrested him (Kanu), we have lost many lives. So, of what use is his arrest? After he was arrested, the kidnapping didn't stop in the north; many students were kidnapped in Kaduna last week. Where were our security agencies? Why can't they use the same temerity to arrest all those people doing this thing (killings)? Arresting Kanu will not solve the problem."
Mbaka further stated that the security challenges in the country are due to politicians who pay huge sums of money to buy arms for political thugs to manipulate elections. Adding that after elections, the jobless youths go about joining criminal sects to cause havoc in the nation.
Watch the video:
Source: Naija News