Ohanaeze, Others Must Oppose Nnamdi Kanu's Trial Not Monitor – IPOB's Lawyer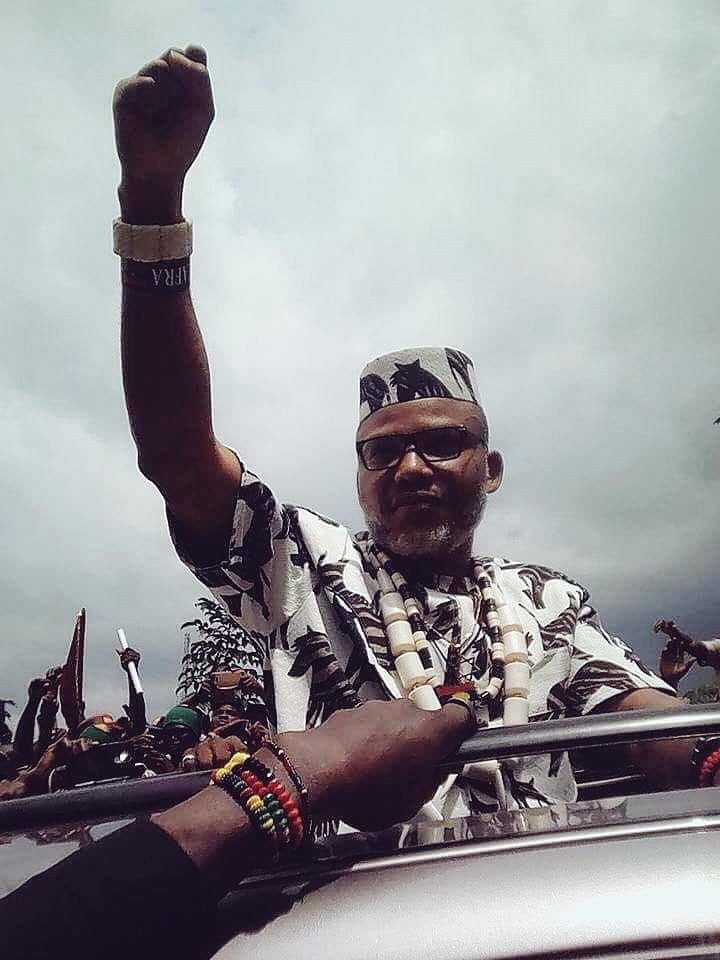 The Lawyer to the Indigenous People of Biafra (IPOB), Aloy Ejimakor has taken a swipe at Ohanaeze Ndigbo to monitor the trial of Mazi Nnamdi Kanu.
Recall that IPOB leader, Nnamdi Kanu was reportedly rearrested in Kenya and extradited back to Nigeria on the 27th of June, 2021.
He was then arraigned before Justice Binta Nyako who ordered his remand in the custody of the DSS until his next trial date which is July 26 and 27.
Kanu, who is facing an 11-count charge of treason, treasonable felony, terrorism and illegal possession of firearms, among others, jumped bail in 2017 and left the country, only to re-emerge in Israel and then in the United Kingdom.
The Attorney General of the Federation, Abubakar Malami, after a meeting with Ohanaeze, granted the groups request to monitor the trial.
Reacting, Ejimakor stated that sympathizers should stress on opposing Kanu's trial instead of talking about fair trial and convergence of monitors for the trial that he said does not arise in the circumstance of his abduction to Nigeria.
He argued that since the Nigerian government broke international protocol and illegally abducted Kanu.
"While it's commendable that Kanu has attracted such an avalanche of support across the spectrum, it's important to make it clear from the outset that there won't be any trial to monitor. None! Nnamdi Kanu cannot be tried based on this extraordinary rendition that brought him to Nigeria," Ejimakor said.
"If you truly support Kanu, you don't need to monitor his trial or ensure he gets a fair trial. What you need to do is to oppose his trial. Saying that you will monitor his trial gives the impression of bestowing legality to the illegality that brought him to Nigeria.
"To better understand how Kanu ended up in Nigeria and why he won't face trial, you need to juxtapose it to what happened to Umaru Dikko in 1984 and its aftermath. Dikko's kidnapping was, like this one of Kanu, a brazen act of attempted rendition, which is a state crime under international law and it comes with dire consequences – legal, diplomatic, and political.
"Though the kidnapping of Dikko failed, it brought the following consequences: Britain swiftly arrested seventeen people, four were convicted and they served between six to eight years in prison. Britain expelled the Nigerian High Commissioner and broke diplomatic relations with Nigeria for 2 years. And most tellingly, Nigeria's subsequent requests to Britain to extradite Dikko and others were summarily denied.
"All these were done even as Dikko was not a citizen of Britain but a mere resident. Conversely, Kanu is a bonafide citizen of Britain, traveling on a British passport when he was unlawfully rendered to Nigeria from Kenya. That should counter more countervailing measures.
"What this means is that, apart from answering to its conscience as a nation, Nigeria shall ultimately answer to Britain, to the international community, and even to Kenya if Kenya succeeds in denying official complicity in the rendition.
"A nation does not go to jail. So, when I stated that Nigeria will answer for the rendition, it means a mix of consequences, some of which are already unfolding. The easiest one to see is that Nigeria has, by her own hands, lost its jurisdiction to subject Kanu to trial. In sporting terms, you can say that Nigeria scored its own goal.
"How that own goal was scored and its fallouts is a complex legal subject that will certainly be ventilated in court and within the diplomatic circles to which Nigeria is subject. But one clear thing is this: No valid prosecutorial or judicial action can proceed from such manifestly criminal conduct by a State.
"So, when you say you will be monitoring Kanu's trial or that you want a fair trial for him, you are unwittingly buying into a grievous crime that should shock your conscience. Put another way, you will be making yourself complicit in what was done to Kanu, or as lawyers would say: you're making yourself an accessory after the fact.
"Conversely, it would be a great thing to say that you will monitor the trial of Kanu's presence in Nigeria was compliant with due process. That due is nothing but what is generally known as extradition."