Nnamdi Kanu: We Won't Attend IPOB Leader's Court Hearing Until… – Family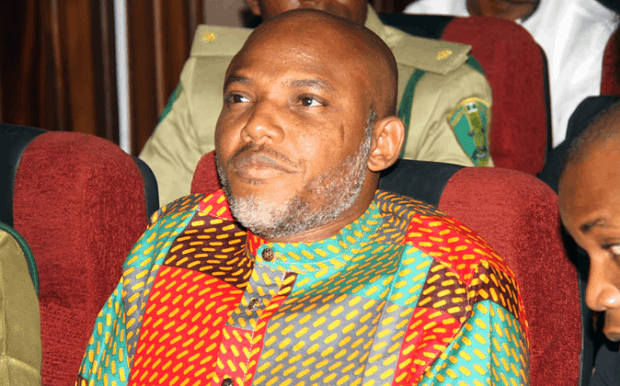 The family of the arrested leader of the Indigenous People of Biafra (IPOB), Mazi Nnamdi Kanu, has insisted they won't attend any court hearing until they get an explanation on how the agitator was arrested.
Recall that IPOB leader, Nnamdi Kanu was reportedly rearrested in Kenya and extradited back to Nigeria on the 27th of June, 2021.
He was then arraigned before Justice Binta Nyako who ordered his remand in the custody of the DSS until his next trial date which is July 26 and 27.
Speaking through Nnamdi Kanu's younger brother, Prince Emmanuel, the family accused the federal government of abducting and bundling Kanu back to Nigeria.
The family asked the government to explain how the pro-Biafra activist was "kidnapped in Kenya and who his abductors were or were working for."
Emmanuel added that security agents have not granted them access to him since he was brought back to Nigeria.
They expressed worry over his health condition and appealed to the United States of America, Israel, Russia European Union, and other lovers of democracy to come to their aid.
The family particularly appealed to them to ensure Kanu gets justice, insisting that he is only a freedom fighter and deserves international protection.
"They should allow him to see his doctors. We don't know why they don't want his doctors to see him", Prince Emmanuel agonized.
He said: "We won't be in court on 26th (July) until they explain to us how and who kidnapped Nnamdi in Kenya.
"We need clarifications on what happened and how he was brought to Nigeria illegally.
"Even Britain whose citizenship he holds said she needed explanations on what happened. So, we need to know what happened."