Buhari Govt Lied, May Have Drugged Nnamdi Kani – Falana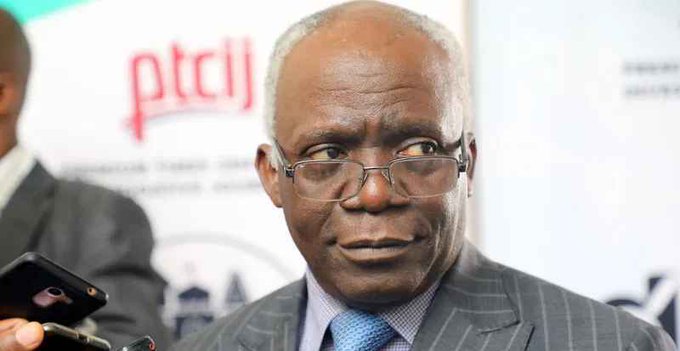 Human rights lawyer, Femi Falana, has noted that President Muhammadu Buhari-led government lied over the repatriation of the leader of the Indigenous People of Biafra, Nnamdi Kanu back to Nigeria.
Falana further stated that the IPOB leader may have been drugged after he was rearrested before he was smuggled back to Nigeria.
Recall that the minister of justice and Attorney-General of the Federation, Abubakar Malami, had disclosed the arrest of Kanu.
Malami said the IPOB leader was brought back to Nigeria to continue his trial before an Abuja Federal High Court presided over by Justice Binta Nyako.
The human rights lawyer said such an act was against the constitution of Nigeria.
Falana stated this at the 13th Wole Soyinka Centre Media Lecture Series to commemorate his 87th birthday, on Tuesday.
He called on Nigerians to prevent attempts by the federal government to take the country back to the 1984 era.
Falana said the treatment meted out to Kanu and Sunday Igboho was similar to what happened to a former Presidential Adviser, Umaru Dikko in 1984 when he was kidnapped in London.
He said: "We should not allow Buhari's government take us back to 1984 when an attempt was made to kidnap Umaru Diko in London. He had already been kidnapped and on the way to the airport, a neighbour saw them and raised an alarm after witnessing the inhuman treatment he was subjected to."
"In the case of Kanu, Kenyan government cannot admit that on their soil a Nigerian was taken out of the country without going through the legal process. It's likely they drugged him to sleep and brought him back to Nigeria."
"That is against the anti-torture act and Nigeria's constitution. Therefore, those who say they brought Kanu back through some international collaboration are not telling the truth. Interpol cannot deport without due process."