Igboho's Aides To Court: Order DSS To Release Us On Bail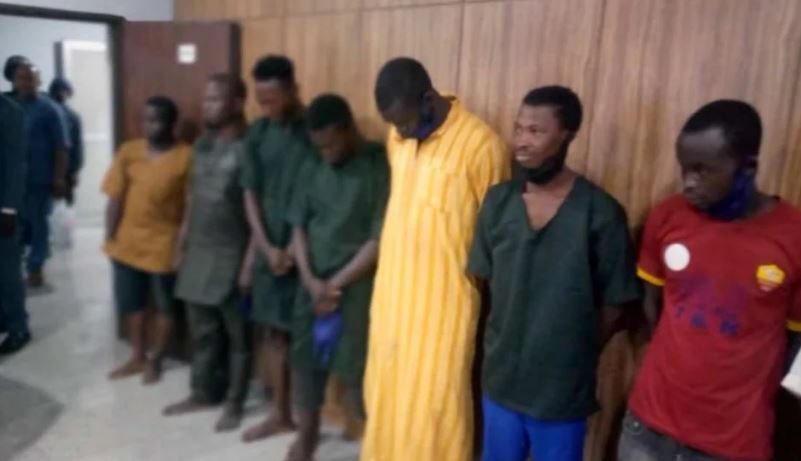 The 12 arrested aides of Yoruba activist, Sunday Igboho, have demanded to be taken before the Federal High Court in Abuja and be granted bail.
Naija News reports that the 12 aides, which consist of 11 men and one woman, were arrested by the Department of State Services during the July 2 midnight raid on the Ibadan home of Sunday Igboho.
In a suit filed by their counsel, Chief Yomi Alliyu (SAN), on Friday, the aides demanded that the DSS should arraign them before the Federal High Court in Abuja and be granted bail.
The detainees, who have spent a week in the custody of the DSS, contended that their continued detention without being taken to court breached the provisions of the law stipulating that suspects should be taken to court within 24 hours of their arrest.
The detainees, through Alliyu, are praying the court for a court order "mandating and compelling the defendants to produce the applicants to enable this honourable court to inquire into the circumstances constituting grounds of their arrest and detention since July 2, 2021, and where it deems fit to admit the applicants to bail."
They want the court to order the DSS to explain why they should not be admitted to bail "in accordance with the provisions of the Administration of Criminal Justice Act 2015 and other extant laws in Nigeria."
Listed as the plaintiffs in the suit are Abdullateef Ofeyagbe, Amoda Babatunde (alias Lady K), Tajudeen Erinoyen, Diekola Ademola, Abideen Shittu, Jamiu Noah, Ayobami Donald, Adelabe Usman, Oluwapelumi Kunle, Raji Kazeem, Taiwo Opeyemi and Bamidele Sunday.
The defendants are the Department of State Services (aka DSS) and its Director-General.
As of the time of filing this report, no date has been fixed to hearing of the case.
Recall that t secret police had said it arrested 13 persons and killed two in the raid on Ighobo's house. The DSS also declared wanted Igboho, who escaped during the raid.
The DSS alleged that Igboho was in illegal possession of firearms but the Yoruba Nation agitator denied the allegation, saying that the firearms claimed to have been recovered from his house were planted by the DSS to implicate him.