Latest Biafra/IPOB News For Thursday, July 8th, 2021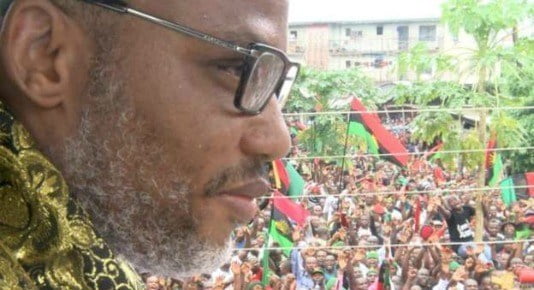 Good day, Nigeria, welcome to Naija News roundup of Biafra/IPOB news headlines for today Thursday, July 8th, 2021.
Below is a roundup of top stories on Biafra, IPOB, ESN, Nnamdi Kanu and other pro-Biafra groups:
Counsel to the leader of the proscribed leader of the Indigenous People of Biafra (IPOB), Nnamdi Kanu, Ifeanyi Ejiofor, has said his client would be released soon.
Speaking to newsmen, Ejiofor, who had come under attack by security agents in past, stated that he was appointed by God to defend Kanu and IPOB members.
The pro-Biafra agitators' lawyer urged Biafrans across the world to be patient and prayerful.
"We're in high spirit that Mazi Nnamdi Kanu will soon come out of detention sooner than expected, and better too. It's one thing for allegations to be made, it's another thing to establish it. But I don't think there's anything strong enough to convict him," he said.
A former Military Administration of Kaduna State, Col Abubakar Umar (rtd), has accused President Muhammadu Buhari-led of been the cause of the separatist agitations threatening the country's unity.
Umar, who made this claim in a statement released on Wednesday titled: 'Nigeria; A Nation Challenged, ' said the Buhari government has failed to unite Nigeria.
He also condemned the Federal Government for threats against separatists, while there is less action against kidnappers, bandits and insurgents in the Northern part of the country
Umar added that the arrest of the leader of the Indigenous People of Biafra, Nnamdi Kanu, is of no serious consequence.
Nnamdi Kanu's counsel, Aloy Ejiamakor, has revealed that the British High Commission in Nigeria has expressed willingness to assist the leader of IPOB.
Recall that Kanu through Ejimakor petitioned the British High Commission, requesting "That Mr Kanu be granted every possible Consular Assistance to which he is entitled as a British citizen."
Speaking to SaharaReporters on Wednesday, Ejimakor stated that the commission acknowledged the receipt of his letter and guaranteed the protection of Kanu's welfare.
While stating that the contents of the letter are confidential, Nnamdi Kanu's lawyer revealed that the letter specifically stated that the IPOB will get the "support and welfare" of the British authorities.